NAHL announces monthly player awards for February
March 3, 2022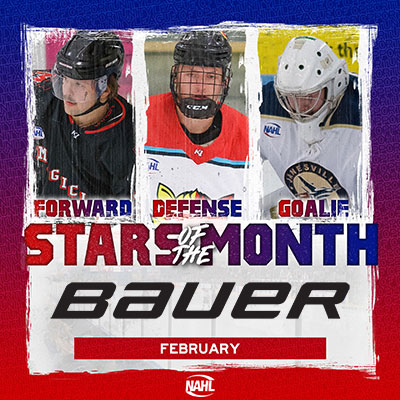 The North American Hockey League (NAHL) has announced its monthly player awards for the month of February. The Forward of the Month is Hunter Longhi from the Minnesota Magicians. The Defenseman of the Month is Brandon Holt from the New Mexico Ice Wolves. The Goaltender of the Month is Owen Millward from the Janesville Jets. Only players who are nominated by their respective teams are considered for the NAHL monthly awards.
Bauer Hockey NAHL Forward of the Month: Hunter Longhi, Minnesota Magicians
Although he played in just seven games during the month of February, Magicians forward Hunter Longhi, 19, made it count. The 5'8/182 lbs. native of Colinsville, IL, put up 15 points (6 goals, 9 assists) in those seven games, which included five multi-point games. Longhi ended the month riding a five-game point streak and his 55 points to date is tied for 5th currenly in NAHL scoring. Longhi has recorded 24 goals and 31 assists in 46 games played so far this season. "Hunter has been great for us all year. He has a knack for scoring and is one of the smartest hockey players I've ever coached. He's come a long way this year in developing his game in both ends of the rink and I think it's helped him in all areas. Whoever ends up getting Hunter at the next level is getting an elite offensive player to build on. On top of all that, Hunter is a high-end student and great kid," said Magicians head coach Nick Bydal.
"I'd have to say that the biggest part of my success along with the team's success is that we have really come together well as a group. Having a close-knit group of guys really takes the stress out of the game knowing you have 20+ guys that have your back night in and night out," said Longhi. "My goals are to make an NCAA Division I commitment by the end of this year and for our team to keep growing as one and win a Robertson Cup together."
Runner-Up: Jake Black, Johnstown Tomahawks
Honorable Mention (alphabetical): Dillan Bentley, New Mexico Ice Wolves – Jacob Brockman, Maryland Black Bears – Kyle Gaffney, Aberdeen Wings – Tyler Gaulin, Maine Nordiques – Ryan Gordon, Northeast Generals – Nik Hong, St. Cloud Norsemen – Dayne Hoyord, Odessa Jackalopes – Cade Lemmer, Wichita Falls Warriors – Alexander Malinowski, Fairbanks Ice Dogs – Michael Mesic, North Iowa Bulls - Nick Ostbloom, Kenai River Brown Bears – Quinn Rudrud, Bismarck Bobcats - Dylan Smith, Lone Star Brahmas
Bauer Hockey NAHL Defenseman of the Month: Brandon Holt, New Mexico Ice Wolves
It was a big month for Brandon Holt, 20, and the New Mexico Ice Wolves. The 6'0/185 lbs. defenseman from Grand Forks, ND, helped his club maintain their lead atop the South Division with a 7-2-0 record during the month. The University of Maine recruit put up 10 points in those nine games, which included six goals and four assists. Holt recorded at least a point in eight of the nine games played during the month and had two multi-point games in addition to having a +4 rating. For the season, Holt is currently tied for 5th among all NAHL defensemen in scoring with 30 points in 44 games played to date. His 12 goals in 2nd among all NAHL defensemen. "We're excited to see Brandon get recognized as Defenseman of the Month. He's been playing great hockey and contributing to our team's success consistently. He never takes a shift off and has been a rock for us on our defensive end," said New Mexico head coach Phil Fox.
"I think as a team a lot of our success this past month can be attributed to our consistency and willingness to work. We were clicking all month and I think it was a result of everybody buying in and playing the right way. For me personally the guys around me made it easy for me. I was playing with a ton of confidence and my teammates were finding in good spots," said Holt. "Going forward this season, I think our main goal is making a playoff push. It's something that this organization nor I have been able to do yet. Beyond juniors I'm super excited to have a chance to play NCAA Division I hockey for Maine next year and I can't wait to see what I can do for there."
Runner-Up: Evan Orr, Northeast Generals
Honorable Mention (alphabetical): Owen Baumgartner, Wichita Falls Warriors – Nick Bernardo, Maine Nordiques – Tyler DesRochers, Johnstown Tomahawks – Kyle Furey, Lone Star Brahmas – Will Gilson, Aberdeen Wings – Chris Lynch, St. Cloud Norsemen – Aidan McDowell, Maryland Black Bears – Brendan Miles, Fairbanks Ice Dogs – Michael Neumeier, Bismarck Bobcats – Will Svenddal, Minnesota Magicians - Sean Vlasich, North Iowa Bulls
NAHL Goaltender of the Month: Owen Millward, Janesville Jets
It has been a huge second half of the season and month of February for Janesville Jets goalie Owen Millward. The 6'3/205 lbs. native of Davis, CA, was close to perfect during the month, posting a 5-0-0 record, which included three shutouts in five starts. Millward, 18, stopped 132 of 135 shots that came his way in the five games, which was good for a 0.60 goals against average and .978 save percentage in February. For the season, Millward currently has a 22-8-0 record for the Jets, with a 2.57 goals against average and .911 save percentage. His six shutouts this season is currently tied for the league lead in the NAHL. "Owen has been a workhorse for us. We have had quite the turnaround in the second half as a team and a lot of that is credit to Owen and how he has elevated his play. He has given us a chance, and then some, every single game. Owen has tremendous work ethic, he's competitive, he's coachable, and above all he's just a great young man. He's one of the best goalies in the league and our players and staff are proud of him and this recognition," said Jets head coach Parker Burgess.
"I owe a large part of my success the past month to my teammates in front of me. When the team plays as well as they have been, it gives me a lot of confidence, which is a huge part of being a goaltender. When you can step on the ice and you know your team has your back, it's a great feeling. I think it goes both ways too. As a goalie you can instill confidence in your group as well, and when it's going both ways like it has been, you start to win a lot of games," said Millward. "For the rest of the season, I want to help bring a Robertson Cup to the city of Janesville. I think it would be an amazing story if we made a run, given our record through the first 20 games or so. Beyond this year, my goal is to take my hockey career as far as possible. My initial goal is to earn an NCAA Division I scholarship, and beyond that, hopefully live out the dream and play professional hockey."
Runner-Up: Brandon Milberg, Wichita Falls Warriors
Honorable Mention (alphabetical): Anton Castro, Aberdeen Wings – Ethan Dahlmeir, St. Cloud Norsemen – Luca Di Pasquo, Maryland Black Bears – Hunter Garvey, North Iowa Bulls – Beni Halasz, New Mexico Ice Wolves – Kayden Hargraves, Fairbanks Ice Dogs – Croix Kochendorfer, Chippewa Steel – Noah Rupprecht, Odessa Jackalopes – Arthur Smith, Lone Star Brahmas – Oskar Spinnars Nordin, Bismarck Bobcats