NAHL announces results of 2023 Draft
June 15, 2023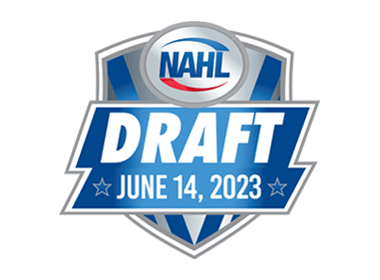 The 2023 NAHL Draft was held and completed on Wednesday, June 14th and the NAHL is pleased to announce the results.
In total, 259 players were selected in the draft, which took four hours and 39 minutes to complete.
View the results of the 2023 NAHL Draft at nahldraft.com
Click here to rewatch the NAHL Draft
"The NAHL Draft is always a big day. Our teams are out there all season long and trying to give as many players as possible an opportunity to make a team. Getting drafted in the NAHL Draft means that someone has watched you and that you have done something special to catch their eye and interest and you are being rewarded for that. Then it becomes all about what you can do for that team in the future, so it is a very important part of the process," said NAHL Commissioner and President Mark Frankenfeld. "We offer our congratulations to the players selected in today's NAHL Draft. This is the start of an incredible journey to play in the NCAA and we wish the best of luck to all the players, veterans, tendered, drafted or not, in your quest to play USA Hockey in the NAHL."
The first player taken in the 2023 NAHL Draft was forward Jack Rimmer, who was selected by the expansion Colorado Grit with their first ever NAHL Draft pick. Rimmer, 17, played for the North York Rangers in the OJHL during the 2022-23 season and recorded 54 points (22 goals, 32 assists) in 51 games played.
With the second pick, the expansion Rochester Jr. Americans selected forward Drew Haxton with their first ever selection. The 20-year-old native of Wakefield, RI, played in 45 games last season for the Cowichan Valley Capitals last season and recorded 17 points.
The third selection belonged to the expansion New Hampshire Mountain Kings who selected 19-year-old Shake Baker, who recorded 39 points in 50 games during the 2022-23 season with the Boston Jr. Bruins.
The first defenseman selected was with the 6th pick overall as the El Paso Rhinos selected Hayden Lacquette, who appeared in 54 games for the Portage Terriers and recorded 54 points (15 goals, 39 assists).
The first goaltender selected was Santo Simmchen, who was selected 10th overall in Round 1 by the North Iowa Bulls. The 17-year-old Swiss native played for the Davos U20 team last season, posting a 7-8-1 record in 20 games and a 3.44 goals against average.
Breakdown of positions drafted:
Forwards: 161 (62%)
Defense: 73 (28%)
Goalies: 25 (10%)
Breakdown of teams/levels/leagues where players were selected from:
Canadian Junior: 76
18U: 35
NA3HL: 27
Other Junior: 25
European Junior: 21
16U: 20
Prep School: 19
High School: 15
USHL: 12
NAHL: 8
15U: 1
Birth year breakdown:
2003: 94
2004: 86
2005: 49
2006: 29
2007: 1
Players not drafted or tendered by NAHL teams are still able to participate in each team's respective open tryout camps. Remaining tryout camps are listed here.
Each team's protected list now stands at 28 players.