Links in this section are to external sites
| | | |
| --- | --- | --- |
| | Jaxson Ezman | Princeton University |
| | Nate Warner | University of Minnesota |
| | Drake Usher | Air Force Academy |
| | Tyler Sedlak | Tufts University |
| | Tommy Middleton | University of St. Thomas |
| | Cade Destefani | Western Michigan University |
| | Jay Ahearn | Niagara University |
| | Greg Japchen | Union College |
| | Jack Ford | Army |
| | Andy Stoneman | Bowdoin College |
View all of the NAHL College Commitments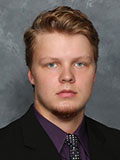 Jake Sibell
Aberdeen Wings
For the second straight month, Aberdeen Wings goalie Jake Sibell, 21, was named the NAHL's Goalie of the Month as he continued his march towards a record-breaking season. The 6'2/206 lbs. native of Isanti, MN, posted a perfect 7-0 record in seven starts and allowed just two goals during the month. Sibell faced a total of 194 shots in 419 minutes of action and made 191 saves, while also posting four shutouts during the month of January. So far during the 2020-21 season, Sibell is currently the top goalie in the NAHL with a 1.01 goals against average and a .960 save percentage to go along with a perfect 19-0-0 record for the first place Wings. Recently, Sibell announced his commitment to play NCAA Division I hockey for Niagara University next season. During the 2016-17 season, he played in the NAPHL for the Omaha AAA 16U team. "Jake was once again the backbone of this team in the month of January. He continues to do big things and allows us to lean on him in moments when we need him most. He is an incredible teammate on and off the ice, and an incredible asset to the Wings," said Wings head coach Scott Langer.
"I was thrilled to earn an NCAA Division I commitment, but it doesn't change anything about what I am trying to do and accomplish this season. I want to keep improving and keep helping my team win hockey games. When this season is over, maybe I will have some time to think more about it, but for right now it is about getting better every day, every practice and every game and putting in the work to be successful," said Sibell. "I think the numbers I've been able to put up to date have been additional motivation for me to keep playing well for my teammates but come game day I try and block out all the noise and just focus on winning games."
Runner-Up: Andrew Takacs, Amarillo Bulls
Honorable Mention (alphabetical): Owen Bartoszkiewicz, Wichita Falls Warriors – Andy Beran, Minnesota Magicians - Guy Blessing, Lone Star Brahmas – Sam Evola, Johnstown Tomahawks – Luke Pavicich, Kenai River Brown Bears – Ian Shane, Bismarck Bobcats - Jacob Zacharewicz, Minnesota Wilderness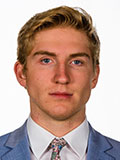 Jay Ahearn Johnstown Tomahawks
Johnstown Tomahawks forward Jay Ahearn, 19, helped his club move into 1st place in the East Division during the month of January. The 5'11/180 lbs. native of Staten Island, NY, put up 15 points (11 goals, 4 assists) in just eight games played during the month of January, which also included a +11 rating. Ahearn not only leads the Tomahawks in scoring with 34 points, but he is first in the NAHL with 17 goals and 2nd overall in league scoring. "Jay had an incredible month of January for us, leading to much needed team success. He had an impact on every game it seemed and delivered in many ways. His ability to show up at big times was great for us. Jay delivered at even strength, power play, and short-handed this month. I couldn't be prouder of his growth as a player this year and he is truly deserving of this honor as Forward of the Month," said Tomahawks head coach Mike Letizia.
"The team has really bonded and gotten a lot closer as the season has gone on and we have stuck to playing the way we want to play. This is a very unique season, and we have a new appreciation for being around the rink and to be playing hockey. Everyone is doing their part to ensure we have team success first," said Ahearn. "I just want to help our team win a division title and hopefully win a Robertson Cup. After that, I would love the opportunity to continue my career by playing NCAA Division I hockey."
Runner-Up: Payton Matsui, Aberdeen Wings
Honorable Mention (alphabetical): Andrew DeCarlo, Lone Star Brahmas – Jake Hale, Fairbanks Ice Dogs – Max Helgeson, Kenai River Brown Bears – Devlin McCabe, Minnesota Magicians – Harrison Scott, Amarillo Bulls – Ryan Taylor, Bismarck Bobcats - Thomas Weis, Wichita Falls Warriors – Evan Werner, New Jersey Titans – Hunter Young, Minnesota Wilderness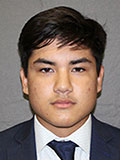 Vincent Corcoran Wichita Falls Warriors
Wichita Falls Warriors defenseman Vincent Corcoran, 19, played a big role in helping his club have success during the month of January. The 5'8/160 lbs. native of Plainfield, IL, was solid at both ends of the ice putting up nine points (2 goals, 7 assists) and a +9 rating in 11 games during the month. Corcoran is currently 3rd in scoring this season among all NAHL defensemen with 16 points in 23 games played. "Vinnie has been steady and reliable for us all season. He brings poise and confidence with the puck that allows him to minimize pressure and reduce those long stretches in the defensive zone. Vinnie's shutdown defensive ability and his offensive production this past month has helped lead the way for our group. He deserves to be recognized as one of the league's best defenseman with the effort, compete and professional demeanor he brings on a daily basis," said Warriors head coach Garrett Roth.
"I think most of our success has come when we buy into and play by the system that Coach Roth has established. When everyone is working hard and doing what they are supposed to do, we are a successful team, and that's what has happened recently in order for us to win hockey games. We have great support here in Wichita Falls and it's been fun to play here this year," said Corcoran. "I want to keep working hard and develop to the point where I could earn an NCAA commitment and then help this team make the playoffs and hopefully advance far to the point where we can play for a Robertson Cup title."
Runner-Up: Mitchell Digby, Lone Star Brahmas
Honorable Mention (alphabetical): Thomas Bergsland, Bismarck Bobcats - Grant Docter, Minnesota Wilderness – Andrew Garby, Fairbanks Ice Dogs – Greg Japchen, Amarillo Bulls – Ryan Poorman, Johnstown Tomahawks – Jakob Stender, Aberdeen Wings – Adam Szubert, Kenai River Brown Bears – Hunter Weiss, Minnesota Magicians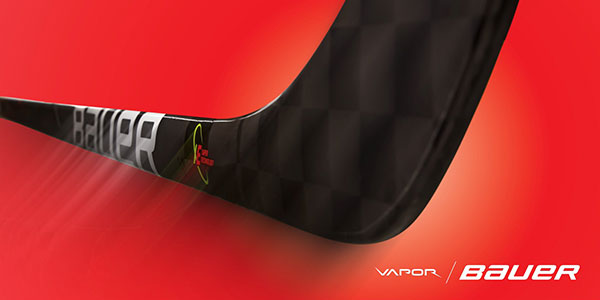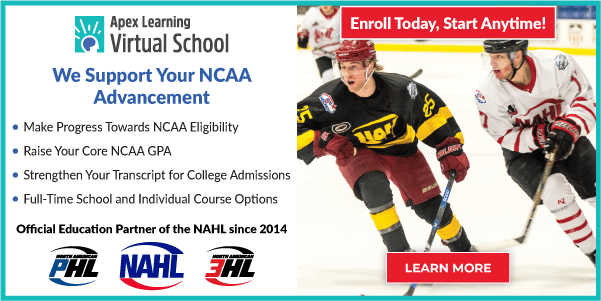 | Central Division | GP | W | L | OTL | SOL | Pts |
| --- | --- | --- | --- | --- | --- | --- |
| Aberdeen Wings | 31 | 29 | 1 | 0 | 1 | 59 |
| Bismarck Bobcats | 34 | 18 | 11 | 2 | 3 | 41 |
| Minot Minotauros | 31 | 13 | 15 | 2 | 1 | 29 |
| MN Wilderness | 24 | 11 | 11 | 1 | 1 | 24 |
| Austin Bruins | 29 | 9 | 16 | 2 | 2 | 22 |
| St. Cloud Norsemen | 27 | 9 | 17 | 0 | 1 | 19 |
| East Division | GP | W | L | OTL | SOL | Pts |
| Maine Nordiques | 34 | 22 | 11 | 1 | 0 | 45 |
| Johnstown Tomahawks | 30 | 20 | 6 | 2 | 2 | 44 |
| New Jersey Titans | 31 | 15 | 11 | 1 | 4 | 35 |
| Maryland Black Bears | 31 | 12 | 14 | 3 | 2 | 29 |
| Northeast Generals | 37 | 12 | 22 | 3 | 0 | 27 |
| Danbury Jr. Hat Tricks | 21 | 11 | 9 | 1 | 0 | 23 |
| Midwest Division | GP | W | L | OTL | SOL | Pts |
| Janesville Jets | 23 | 14 | 7 | 2 | 0 | 30 |
| MN Magicians | 19 | 14 | 5 | 0 | 0 | 28 |
| Kenai River Brown Bears | 28 | 12 | 14 | 1 | 1 | 26 |
| Fairbanks Ice Dogs | 27 | 11 | 14 | 1 | 1 | 24 |
| Chippewa Steel | 19 | 6 | 11 | 1 | 1 | 14 |
| South Division | GP | W | L | OTL | SOL | Pts |
| Shreveport Mudbugs | 30 | 20 | 6 | 2 | 2 | 44 |
| Lone Star Brahmas | 33 | 21 | 11 | 1 | 0 | 43 |
| Amarillo Bulls | 31 | 18 | 8 | 2 | 3 | 41 |
| Wichita Falls Warriors | 29 | 17 | 8 | 1 | 3 | 38 |
| New Mexico Ice Wolves | 33 | 10 | 21 | 1 | 1 | 22 |
| Odessa Jackalopes | 32 | 8 | 20 | 2 | 2 | 20 |