September
Forward of the Month
Forward of the Month:

Wilmer Skoog

-

Maryland Black Bears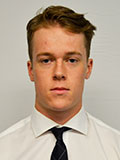 Leading the way in the month of September for NAHL scoring was Maryland Black Bears forward and Boston University recruit Wilmer Skoog. The 20-year-old native of Stockholm, Sweden, led all NAHL players with 15 points during the month, which included seven goals and eight assists in just eight games played as the Black Bears put together a 4-4-0 record. Skoog (6'2/197) had five multi-point games and was a +8 during the month, and is tied for the league lead with seven goals. "Wilmer has come into this season with a purpose, and if the first few weeks are any indication, our fans are in for a treat. He's a talented individual, but his competitive drive, and work ethic is off the charts. He has been great helping lead us into Year 2, and we look forward to seeing just how much more he can do as the season progresses," said Maryland head coach Clint Mylymok.
"The coaching staff has been incredible this season. I think the Black Bears organization learned a lot during their first season in the NAHL last year and you can see that experience paying off this year, both on and off the ice. There is a great sense of community here and the support from the organization has been great for the players," said Skoog. "I think if anything, having an NCAA Division 1 commitment motivates me even more and raises the expectations of myself, which is something that I enjoy. I don't mind playing under pressure or with high expectations because I want to make a big impact."
Runner-Up: Mitch Machlitt, New Jersey Titans
Honorable Mention (alphabetical): Matt Allen, Amarillo Bulls – Nik Armstrong-Kingkade, Minot Minotauros – Jakob Breault, Aberdeen Wings – Shane Bull, Corpus Christi IceRays – Tyler Cooper, Northeast Generals – Will Hillman, Bismarck Bobcats – Jack Johnston, Fairbanks Ice Dogs – Noah Kane, Maine Nordiques – Killian Kiecker-Olson, Chippewa Steel – Zach Krajnik, Kenai River Brown Bears – Dante Sheriff, Austin Bruins – Bennett Stockdale, Johnstown Tomahawks – CJ Walker, Lone Star Brahmas – Bud Winter, St. Cloud Blizzard – Connor Zilisch, Topeka Pilots
Defenseman of the Month
Defenseman of the Month:

Matt Rickard

-

Lone Star Brahmas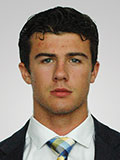 Lone Star Brahmas defenseman Matt Rickard, 20, got his season off to a great start by posting seven points in the first six games of the season in September as the Brahmas posted a perfect 6-0-0 record. The 6'1/180 lbs. native of Coventry, Rhode Island, posted at least a point in five of the six games played during the month and tied for scoring among NAHL defensemen with seven points (2 goals, 5 assists). That included five points at the NAHL Showcase, which also saw him earn Star of the Week honors. "I think Matt is a defenseman that a lot of NCAA Division 1 schools are taking an interest in because of his skating and offensive ability, which he has showed off since the start of the season. He is a very competitive player and one that plays hard every shift. He plays in all situations, and is also is very well-rounded. We are very happy for his success to date and look forward to the next step in his hockey career," said Brahmas head coach Dan Wildfong.
"I think it got started with our play during our pre-season tournament and has continued through the entire month. The entire team has been good and I have tried to feed off that. We have putting in countless hours of work and video and I think that has helped us click as a team," said Rickard. "It has been a long career of grinding and hard work, so I am hoping that pays off soon with an NCAA Division 1 opportunity, but I know I have to keep improving every day."
Runner-Up: Sam Skinner, Minot Minotauros
Honorable Mention (alphabetical): Noah Carlin, Amarillo Bulls – Nico DeVita, Aberdeen Wings – Logan Kons, Maryland Black Bears – Robert McCollum, Kenai River Brown Bears – Joseph Nagle, Northeast Generals – Jack Olsen, Bismarck Bobcats – Tod Philibert, Corpus Christi IceRays – Jed Pietila, Austin Bruins – Quinn Warmuth, Johnstown Tomahawks – Trenton Woods, Fairbanks Ice Dogs
Goalie of the Month
Goalie of the Month:

Maiszon Balboa

-

Shreveport Mudbugs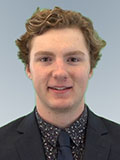 It was a perfect month of September for Shreveport Mudbugs goalie Maiszon Balboa. The 19-year-old native of Colorado Springs, Colorado, posted a perfect 4-0-0 record during the month, which included a 0.97 goals against average and a .968 save percentage. Balboa (6'3/200), who is committed to play NCAA Division 1 hockey for Air Force and is also an NAPHL grad, posted two shutouts during the month and stopped a total of 121 of 125 total shots, allowing just four goals. "Maiszon has had a great start to the season and we feel it's due to the work he put in in the offseason. He's playing like a veteran goalie right now, as he is composed and controlling the pace of games. He's had to make several big saves in all of his starts this year and we hope that trend continues. His leadership on and off this ice will be a big part of what the Mudbugs do this year," said Mudbugs head coach Jason Campbell.
"I have a lot of confidence in this year's team. I think we have clicked and meshed a lot earlier in the season that last season during my rookie year, so I am very excited to see what we can do. I think being committed to play NCAA Division 1 hockey for Air Force is a huge relief and has allowed me to focus on just getting better as a goalie and as a teammate. It is nice knowing playing for Air Force is in my future and motivates me to get better," said Maiszon. "My first year of playing legit AAA hockey was spent in the NAPHL and it was a great league to get started in. I didn't know much about junior hockey, but after playing that season in the NAPHL, you see all the benefits of the exposure to scouts at events and you become educated on how the ladder of development process works."
Runner-Up: Ryan Ullan, Bismarck Bobcats
Honorable Mention (alphabetical): Cooper Black, Maryland Black Bears – Grant Boldt, Chippewa Steel – Jakub Dobes, Topeka Pilots – Jeremy Forman, Corpus Christi IceRays – Ben Garrity, Minot Minotauros – Max Gutjahr, Amarillo Bulls – Zach Hansen, Austin Bruins – Landon Pavlisin, Kenai River Brown Bears – Ludvig Persson, Lone Star Brahmas – Austin Ryman, Fairbanks Ice Dogs – Jake Sibell, Aberdeen Wings – Zach Stern, Odessa Jackalopes – Noah West, Jamestown Rebels