Jets touch down in Janesville
June 5, 2009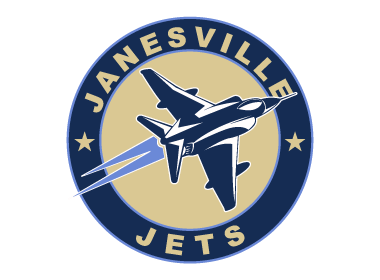 Wisconsin Hockey Partners, owners of the NAHL membership located in Janesville, Wis., announced today that the expansion team will be called the Janesville Jets.

The name and the team's logo were unveiled at a news conference on Friday morning at the site of the team's home playing facility, the Janesville Ice Rink.

Over 200 submissions were entered in the first phase of the team's naming contest. In the second phase, 1,050 votes were registered choosing from the top five names of the first phase, which were the Janesville Jackals, Jaguars, Jayhawks, Jets and Juggernauts.

The Jets received 373 votes, or 36 percent of the vote. The second-place name was the Jackals with 199 votes, or 19 percent of the vote, followed by the Juggernauts (193 votes/18 percent), the Jaguars (189 votes/18 percent), and then the Jayhawks (95 votes/9 percent).

The Jets also announced that Deb Vesling, who lives and works in Sun Prairie, Wis., was the winner of the "Name the Team" promotion. Vesling, along with seven other people, submitted the Jets name in the first round.

She was chosen randomly amongst the eight submitters and will receive four complimentary season tickets, a team jersey signed by the inaugural team's players and the opportunity to drop the ceremonial puck at the first home game.

The other individuals who also entered the final name in the first phase will receive a pair of season tickets and invited to a special ceremony at the Jets' first home game.

"Our whole organization is very excited regarding today's announcement of the Janesville Jets team name and the logo unveiling," said Bill McCoshen, the team's president and managing partner of Wisconsin Hockey Partners. "We have made a commitment to Janesville and look forward to bringing exciting and affordable entertainment to the area citizens."

The Jets logo was designed as part of a collaborative effort. The initial design was conceptualized by Tony DiNicola, a Janesville Gazette designer, and then graphically edited by Christy Kapellen, a senior graphic designer at Print Max in Milton, Wis.

The Jets' new Web site address is JanesvilleJets.com.