NAHL places 12 players on NHL Central Scouting list
October 4, 2016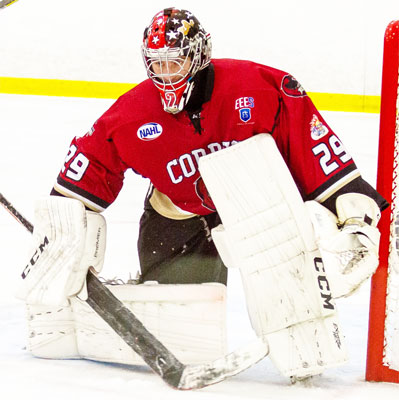 The North American Hockey League (NAHL) has set yet another milestone on the heels of another record-breaking NAHL Showcase. The NAHL is pleased to announce that 12 players were recognized today on the National Hockey League's (NHL) 'Prospects to Watch' list for 2017 draft-eligible players with the release of NHL Central Scouting's preliminary list of players to watch in North America and Europe.
The list included 10 players that are currently playing in the NAHL this season and two former players that are in other leagues.
The only other non-major junior league in North America that had more players listed than the NAHL was the USHL. A total of 54 NHL scouts, including those from NHL Central Scouting, were on hand at the NAHL Showcase two weeks ago scouting players at the NAHL Showcase.
The lists, comprised of "A," "B" and "C" players for the upcoming season in each of the major junior hockey leagues, are sent to NHL team scouts for the purpose of tracking the top draft-eligible players entering the 2016-17 season. All "A" skaters have been identified as potential first-round picks, while "B" players are considered second- or third-round candidates. The players on the "C" list are thought to be fourth-, fifth- or sixth-round possibilities. Central Scouting's preliminary rankings will be revealed in November. That list includes the top 25 prospects for each of the various leagues throughout North America and Europe.
Current NAHL players on the list (alphabetical)
Justin Addamo, F, Lone Star Brahmas
Joseph Campolieto, D, Wilkes-Barre/Scranton Knights
Filip Dusek, D, Aberdeen Wings
Benton Maass, D, Fairbanks Ice Dogs
Dylan Mills, F, Minnesota Wilderness
Jacob Novak, F, Janesville Jets
Derek Schaedig, G, Janesville Jets
Ryan Snowden, G, Topeka RoadRunners
Gabe Vinal, G, Northeast Generals
Tomas Vomacka, G, Corpus Christi IceRays
NAHL players now in another league
Erich Fear, D, University of Denver/NCAA (Springfield Jr. Blues)
Adam Goodsir, F, Tri-City Storm/USHL (Wichita Falls Wildcats)
Corpus Christi IceRays goalie Tomas Vomacka was on the 'B' list, while all other NAHL players listed in this year's Watch list received a 'C' ranking.
NHL Central Scouting will release its midseason rankings of 2017 draft-eligibles in January, followed by its final rankings in April. The Chicago Blackhawks will host the 2017 NHL Draft at the United Center in Chicago, Illinois. Next year's Draft will be held over two days on June 23-24.
A total of 10 players have been selected right after playing in the NAHL in the past two NHL Drafts.