NAHL announces Bauer Divisional Stars of the Week
October 24, 2016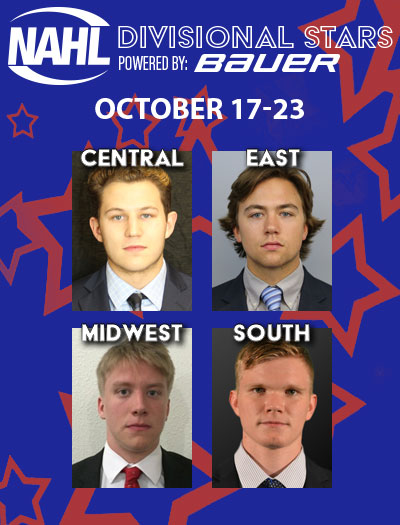 The North American Hockey League (NAHL) today announced the Divisional Stars of the Week presented by Bauer Hockey for the week ending October 23, 2016. The Bauer Hockey Divisional Stars of the Week is a weekly feature during the 2016-17 regular season that honors the top performing players in each of the four NAHL divisions. Only players that are nominated by their respective teams are considered for the Divisional Players of the Week award.
Central Division Star of the Week: Will Ulrich, goaltender, Bismarck Bobcats
The Bismarck Bobcats ran their winning streak to three straight games with home wins over Aberdeen and Brookings this weekend. In between the pipes, Will Ulrich, 20, earn wins in both games. The 6'1/190 lbs. native of Birmingham, MI, allowed just three goals in the two wins and stopped 74 of 77 shots in the two games. For the season, Ulrich's 92.9% save percentage currently ranks 7th in the NAHL. "Will had a great weekend and showed a lot of talent in making some big saves to help us get four points at home. Just as importantly, he has started to show the veteran leadership we knew he could bring when we made the trade for him in May," said Bismarck head coach Layne Sedevie.
2nd Star: Tyler Vold, D, Minnesota Wilderness
Honorable Mention (alphabetical): Trystan Isenhour, F, Aberdeen Wings – Pavel Mikhasenok, F, Minnesota Wilderness – Parker Mismash, F, Bismarck Bobcats
East Division Star of the Week: Matt Kidney, forward, Wilkes-Barre/Scranton Knights
Currently tied for the NAHL scoring lead with 19 points, Wilkes-Barre/Scranton Knights forward Matt Kidney, 19, had an effective week for the Knights, as they went 2-2 in four games. The 5'9/185 lbs. native of Middletown, NJ, had eight points in the four games, which included five goals (two game-winners) and three assists. That included four goals in Sunday's 6-3 win over New Jersey. For the season, his 19 points is tied for the NAHL scoring lead "Matt has really stepped up and been one of our best players over the last few weeks. It's why he's now tied for the league lead in points and it's why we selected him with our first round pick. He's a serious player with a serious skill set and well deserving of this recognition," said Knights head coach Tom Kowal.
2nd Star: Joseph Kile, F, Johnstown Tomahawks
Honorable Mention (alphabetical): Tommy Horn, F, Johnstown Tomahawks
Midwest Division Star of the Week: Daniel Haider, forward, Fairbanks Ice Dogs
The Fairbanks Ice Dogs got back on track with a weekend home sweep of the Kenai River Brown Bears. Of the nine goals scored in the two wins, forward Daniel Haider, 18, had points in seven of the nine goals. In Friday's 5-1 win, Haider (5'9/170) had a goal and two assists and in Saturday's 4-1 win, the native of Anchorage, AK, had a hat-trick (including the game-winning goal) and an assist in a 4-1 win. His 11 points currently leads the team in scoring. "Daniel made plays all weekend. He provided us with some much-needed offense, as he and his teammates are figuring out ways to score goals," said Fairbanks head coach Trevor Stewart.
2nd Star: Brendan Skarda, F, Minnesota Magicians
Honorable Mention (alphabetical): Fabio Hollenstein, F, Springfield Jr. Blues - Max Nylander, F, Springfield Jr. Blues – Josh Sarlo, G, Fairbanks Ice Dogs
South Division Star of the Week: Eriks Zohovs, forward, Shreveport Mudbugs
With an 8-3-0 record, the Shreveport Mudbugs are in 2nd place in the South and the owners of a five-game winning streak. That included three wins at home this weekend, which included a sweep of Odessa on Friday and Saturday and a win over Topeka on Sunday. Forward Eriks Zohovs, 18, had a big weekend, racking up four goals in the three wins. The 6'1/175 lbs. native of Riga, Lativa, began the week with the game-winning goal in a 4-2 win over Odessa on Friday. He finished the week with a hat-trick in Sunday's 4-1 win over Topeka, which also including the game-winner. In 11 games played this season, Zohovs has 15 points. "Eriks has chipped in with timely plays and timely goals for us. While he's certainly a talented player, his compete level and play away from the puck has helped him excel offensively," said Shreveport head coach Karlis Zirnis.
2nd Star: Erik Gordon, G, Lone Star Brahmas
Honorable Mention (alphabetical): Justin Addamo, F, Lone Star Brahmas – Brendan VanSweden, F, Shreveport Mudbugs