Bismarck forward Fladeby makes NCAA DI commitment
December 6, 2016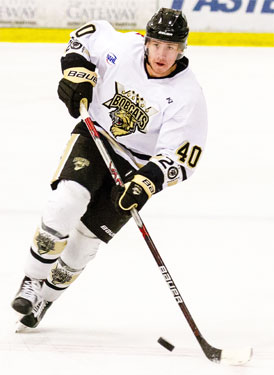 By Paul Teeple, Bismarck Bobcats
Fresh off a month of November that saw him score five goals and add seven assists in nine games, NAHL and Bismarck Bobcats winger Tobias Fladeby has committed to play NCAA Division I hockey at American International College of the Atlantic Hockey Association starting in the fall of 2017.
"It's a very good feeling knowing that I am going to play Division I hockey for the next for years," said Fladeby, whose 29 points (13g, 16a) lead both the Bobcats and the Central Division overall. "Being able to play college hockey is something I have been working really hard toward for a very long time."
On aggregate, the Asker, Norway, native has 25 goals and 31 assists since joining the Bobcats at the start of the 2015-16 campaign.
Under first-year head coach Eric Lang, the Yellow Jackets are on the upswing—taking points in eight of their first 13 conference games this season and currently in fifth place in the AHA—a fact that helped Fladeby make his collegiate decision.
"The program has taken a huge step this season," noted Fladeby, who also played in the 2016 World Junior Championships for Team Norway, "and it is a place where I can develop myself as a hockey player while also getting a great education."
When he arrives in Springfield next fall, he will join 2015-16 teammates Jared Pike and Patrik Demel—both freshmen on this year's installment of the Yellow Jackets.
Lang, an AIC alumnus and former assistant coach at Army, sees an important pipeline from the North American Hockey League to the MassMutual Center.
"Players I've recruited from the North American League are turn-key guys," asserted Lang. "They come in and they know the value of hard work; they know the value of film review; they know the value of physical conditioning: they are ready to go. Bismarck is a program we definitely like to take a look at players from, because we know [the Bobcats] produce college-ready guys every year."
Fladeby becomes the fourth 2016-17 Bobcat committed to a Division I program, joining Will Ulrich (Air Force), Matt Barry (Holy Cross) and alumnus Nick McKeeby (Western Michigan).