Fairbanks forward Ledford makes NCAA commitment
May 24, 2019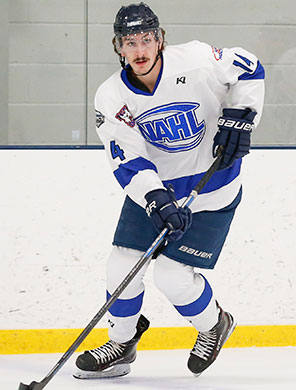 By Danny Martin, News-Miner
Grant Ledford had a few choices when it came to choosing a college where he'd play hockey and work for a degree.
The Fairbanks Ice Dogs team captain and right wing decided to commit to Adrian College, a NCAA Division III program in Adrian, Michigan, about 35 miles southwest of his hometown of Jackson, Michigan.
Ledford, 21, played in the 2019 NAHL Top Prospects Tournament for the Midwest Division team. "I figured my grandparents are getting a little older and I'd like them to watch some hockey. They'd be able to come and watch me play at Adrian." His grandparents live across the road from Ledford's home in Jackson.
Adrian also offered his desired major, wildlife biology, and he was impressed with the Bulldogs hockey program. Adrian, this past season, captured the Northern Collegiate Hockey Association's South Division regular-season title and reached the conference tournament's championship game.
"They're one of the best teams in Division III," Ledford said. "I knew that I'd be able to play top-notch hockey for Division III and be able to still have fun. I know a couple of the guys on that team and it's going to be fun to be able to play with them again."
He is the third player from the 2018-19 Ice Dogs roster to commit to a Division III school and the 11th to commit to an NCAA hockey program.
Jake Borgida committed to Trinity College, a Division III program in Hartford, Connecticut.
Eight players from the Ice Dogs' runner-up squad in the North American Hockey League's 2019 Robertson Cup National Tournament committed to Division I programs.
The group comprises Dylan Abbott (Minnesota State), Parker Brown (Air Force Academy), Luke Mobley (Clarkson), Jax Murray (Arizona State), Jonny Sorenson (Minnesota), John Stampohar (Canisius), and Noah Wilson and Luke Ciolli, both to Army.
Ledford spent the past two seasons with the Ice Dogs, which he said helped him develop for college hockey.
The winger who said he wasn't the most skilled player when he came to Fairbanks leaves Alaska to play hockey at home. Before he was an Ice Dog, Ledford skated with the Meijer AAA of the NAPHL. Ledford played three years for the organization in the NAPHL, putting up 39 points in 70 career games,
"I wasn't developed enough to play college," the 6-foot-3 and 195-pound wing recalled about when he first joined the Ice Dogs in 2017-18. "I came up here, and it was a big step for me to get away from my family this far away. I think getting away from everything that I actually felt comfortable was like huge for my next step. They (Ice Dogs) helped me develop a little more skill and some hockey sense throughout the time up here. It taught me to a better person with everything in the community and stuff like that. They just helped me all around. Coming up here was an unbelievable experience, I couldn't have asked for a better place to go."