The Russia Chronicles, Day 2
August 18, 2019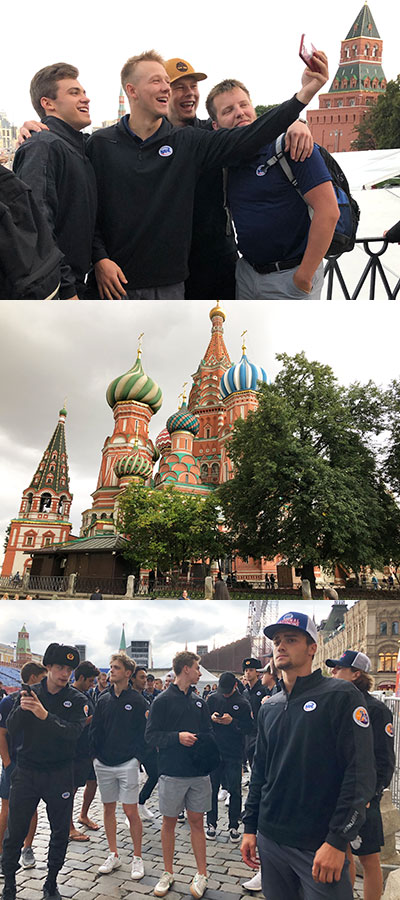 North American Hockey League Director of Communications, Marketing, and Sales, Alex Kyrias, will be chronicling every day of Team NAHL's trip to Russia, including stops in Moscow and Sochi for the 2019 Sirius Junior Club World Cup.
The Russia Chronicles, Day 2: A day of firsts
Sunday was a whirlwind for Team NAHL. It started with a morning breakfast at 9am and I was curious how everyone slept. I think for the most part, several of us woke up in the middle of the night as our body clocks continue to adjust. Two menu items on the morning breakfast slate I have never seen before... chicken nuggets in some type of tomato sauce and fried rice. Also, the lack of ice in any drinks and butter for toast is doing a number on us regulars.
The team finally got to practice and it was good to see the guys pumped up to get out there. The practice started with taking our official team photo. We have had a Russian liaison named Daniel here with us the entire time and he has been very helpful, which included snapping a photo of all of us.
After the on-ice session, which lasted for over an hour, I took headshots of all of the player's in uniform, which will be used by the tournament organizing committee in Russia. I felt bad for Maryland Black Bears forward Max Borst, who took a stick to the nose five minutes into practice and had to get patched up. It definitely showed in the headshot, but in his words, "it made me look mean."
After practice and some stretching and off-ice workouts, it was back to the hotel for lunch, which included more pork, more potatoes and more pasta. I am thinking many of the players would give their right arm for some Chipotle, Olive Garden, or Five Guys burgers and fries right about now.
We then headed to the famous Red Square in Moscow. Yeah, we all wore NAHL gear and stood out like tourists a little bit, but so what? The guys got a lot of looks from people because you could tell they were a team of significance. I think everyone was enamored with the history and decorative spectacle that is Red Square. There are an incredible amount of shops, historic buildings, lights, smells, and people watching.
We took more team pictures and videos and then headed back to the hotel for dinner and some much needed rest. The guys earned their keep today and continue to make the most of this trip. One cool thing for that really brought things in perspective… at the end of practice, all the guys got together at center ice and huddled close to one another. After a few words from the captain Jake Beaune, you heard in unison…"1, 2, 3… USA!" I thought that was really cool. Maybe I was expecting NAHL, but USA is also what and who these 23 players are representing. They are off to a great start!
Finally some great news on the broadcasting front! I was able to get our entire set up working at the Soviet Wings Sport Palace, which will be the site of Monday's exhibition game. Team NAHL is facing Krylya Sovetov from the MHL, which is Russia's top junior league. Barring any last second unforeseen problems, you should be able to watch.
Fans can watch live in HD and for free on the NAHLTV YouTube channel, with yours truly on the call. Face-off is Monday, August 19th at 1pm (Moscow time/6am eastern/5am central).