The Russia Chronicles, Day 3
August 19, 2019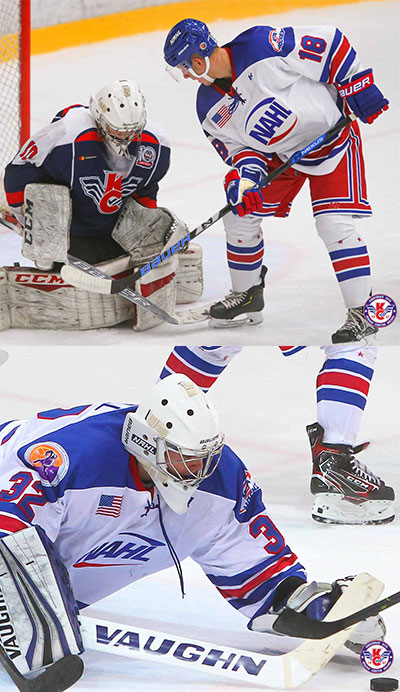 North American Hockey League Director of Communications, Marketing, and Sales, Alex Kyrias, will be chronicling every day of Team NAHL's trip to Russia, including stops in Moscow and Sochi for the 2019 Sirius Junior Club World Cup.
The Russia Chronicles, Day 3: Game #1, win #1
So obviously the highlight of Monday was the Team NAHL win over Krylya Sovetov in the early afternoon. I think the game was a small sample of how a team comes together. The 1st period was a little scary, but thanks to goalie Mattias Sholl, our guys survived the initial storm and played better each period, ultimately saving the best for last with a strong two-goal 3rd period that gave us the win. Not bad for one practice and one game together.
We made a big effort to get the game on the air and it was an adventure. Because every guy played in the game as we were allowed to dress all 23 players, I had to include the role of camera operator (without a tri-pod no less) to my list of responsibilities. Needless to say, it was a first for me. Trying to call a game with a roster full of new names while also trying to follow the action with a handheld camera was an adventure. Oh yeah, the roster for the Krylya Sovetov Russian team had to be written out in pen as the roster provided to us was in Russian.
But, we did it and even got a few highlights out of it. Kenai River's Brandon Lajoie, who coincidentally is the youngest player on the team, scored the game-winner. When I went in the lockerroom after the game and told him I would like an interview, you could tell that panic started to set in. He told me, "I have never done an interview on camera before." Poor kid… he was like a deer in headlights. He did a good job for his first time and I am sure we will be using some of the footage at some point. It was a reality check that this experience for the all of players is part of the big time.
It was also cool to see after the game many of the young Russian hockey players in attendance wanted desperately to get up close to the NAHL team. There was a contingent of young hockey players parked outside the lockerroom asking for autographs and a couple even brought our team a gift. They were 7-8 years old. I thought that was really cool. Hard to believe just 10-12 years ago all of our players were those little boys. It was a cool lesson for our guys that someone is out there always looking up to you even though they never have met you.
I was also surprised at the amount of people at the game for it being on a Monday at 1pm. The score sheet had it listed at 875. It may have been a little less, but still… pretty impressive for a Monday afternoon exhibition game in August.
Our internal body clocks continue to adjust. I think it was a very wise decision to come to Russia six days prior to the event. I think by the time we get to Sochi, hopefully everyone will be settled and getting a lot of sleep at the right times. There continues to be an emphasis on eating right and drinking a lot of water.
Tuesday will be a pretty light day for the team, with a practice in the morning, followed by a team outing to the Kremlin in the afternoon. We will continue to document it as our exciting trip inside Mother Russia continues!