The Russia Chronicles, Day 4
August 20, 2019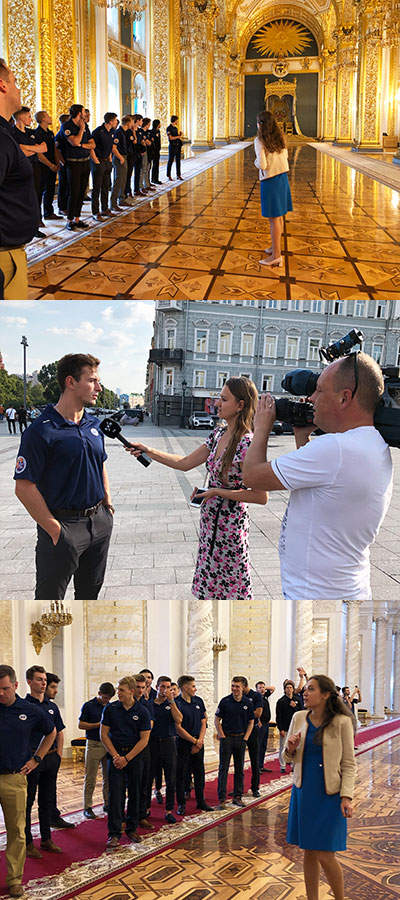 North American Hockey League Director of Communications, Marketing, and Sales, Alex Kyrias, will be chronicling every day of Team NAHL's trip to Russia, including stops in Moscow and Sochi for the 2019 Sirius Junior Club World Cup.
The Russia Chronicles, Day 4: The Kremlin
So the team got up pretty early on Tuesday because the morning practice was scheduled for 8:30am. That meant a 7am breakfast and the bus to the rink. Everyone was in really good spirits. I think they were glad to get a win behind them and with each passing day, the players are becoming more comfortable with one another.
I did some interviews with quite of few of the guys and hit them with some fun questions at the end. While I think everyone's focus is Sochi and trying to win a gold medal, you can't help but think what each of them is thinking about the Russian culture. It is vastly different here, but I think everyone has come to terms with the different lifestyles the Russians lead and I think we all find it incredibly interesting and intriguing. However, I think the common denominator with what is the biggest culture shock is the food.
Breakfast, lunch and dinner continue to be pretty mundane. I still have yet to have a drink with ice in it. Assistant Coach Rocky Russo and I both agreed one of the things we missed most was a 32 oz. cup of iced tea with lemon served in a huge cup of ice. I have never seen more pork cutlets, chicken cutlets, sausages, pickled vegetables, and bread served in all my life. And, it is served every meal.
The big trip of the day was our excursion to the Kremlin and because of the language barrier, we had no idea what we were going to be doing there. It turned out to be one of the more incredible tours I have ever been a part of as Team NAHL got an exclusive behind-the-scenes tour of the Grand Kremlin Palace. Russian history dates back much further than US history, so the Palace was certainly a sight to behold.
There are very strict rules when entering the Palace. You must not take any photos unless they tell you that you can do so. They also do not let you stray from any of the carpet runners that have set down. I will say this, when our guys are in uniform, everyone stares. The choice for the tour was our team polos, slacks and dress shoes. I think every single tour group we passed stopped and did a double take, so our guys are keeping it classy and definitely showing that they look good on and off the ice.
The Palace is in a word… remarkable. The attention to detail in the grand halls where Russian Emperors, Czars, and Presidents have sat is incredible and historic. Our guys soaked it all in and snapped a lot of pictures. I think the tour was an incredible surprise for all of us, primarily because we only saw one other group during the entire two hours and that was the AJHL team that is also competing in Sochi.
As I stood there and looked at the size, score, shape, architecture, of every single column, piece of marble, ceiling tile and floor board, I could not help but think how much all of this cost. I also was in awe with the number of former leaders the Russians memorialize. There are pictures of leaders in battle, leads as religious icons, and the number of names that are forever memorialzed on the walls are in the tens of thousands.
I think when all is said and done, many of the players will probably remark that it was the best part of the trip thus far. I couldn't agree more.
On Wednesday, Team NAHL departs for Moscow airport and then will take the two-hour flight to Sochi. The event is getting close and I think everyone is excited to get to Sochi and see what it has in store before the Opening Ceremony on Friday night.