The Russia Chronicles, Day 6
August 22, 2019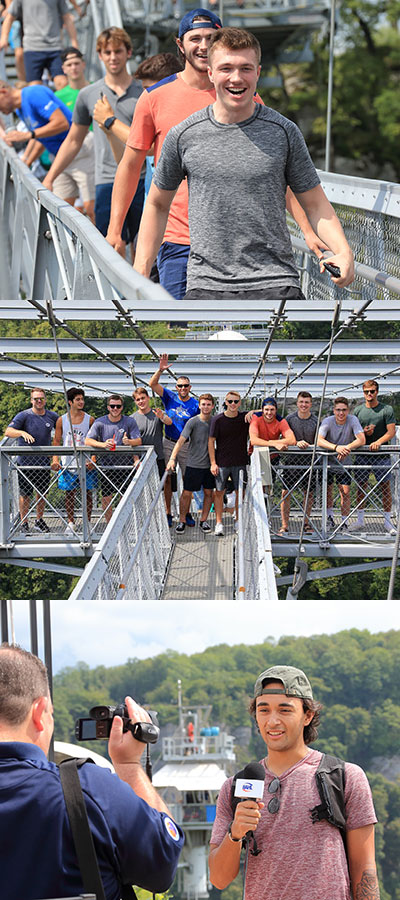 North American Hockey League Director of Communications, Marketing, and Sales, Alex Kyrias, will be chronicling every day of Team NAHL's trip to Russia, including stops in Moscow and Sochi for the 2019 Sirius Junior Club World Cup.
The Russia Chronicles, Day 6: Skypark and Shayba
The countdown is officially on as we have less than 48 hours until our first game here at the 2019 Sirius World Junior Cup. With that said, Team NA took time out Thursday morning for one last excursion.
We went to the AJ Hackett Skypark in the mountains next to the city of Sochi. Everything there is based on their Skybrige, which is one of the longest suspension footbridges in the world. Its length is 439 meters, which is equal to almost five football fields! The Skybridge stretches in an incredibly picturesque location above the river gorge Akhshtyr Mzimta at an altitude of 207 meters above the ground (almost 700 feet!)
The bridge project was developed jointly between Russian and New Zealand architects. It took five years to design and build and included 740 tons of steel and 2,000 cubic meters of concrete used in its construction. It can withstand a 9.0 earthquake, hurricane wind, rain, snow and ice simultaneously.
All the thrilling attractions such as bungee jumping, ziplines and skyswings are based off the bridge. I think our guys got a real kick out of being there and walking across the bridge. Some of them even said they wanted to bungee jump. I wonder if my 18 to 20-year-old self would have thought the same? Maybe. I have always been afraid of heights and this attraction will certainly put that to the test. If we weren't here to play hockey and try and win a gold medal, I am sure some of them would have gladly tried one of the thrill rides.
For now, that is the end of the official excursions in Russia for Team NAHL, as the focus turns strictly to hockey. It is hard to say which one was the best, but they were all unique and incredible. I will be interested to hear what the players have to say at the end of the trip.
After lunch it was off to Shayba Arena in Sochi, which is just a short half-mile away from the hotel, and is the host venue for the 2019 Sirius World Junior Cup. Each of the eight teams in the tournament had their opening practices on the ice. Opened in 2013, Shayba arena seats 7,000 fans and was used for ice hockey events during the 2014 Winter Olympics.
Now, I have been in a lot of hockey rinks and arenas in my life, but Shayba Arena may be the nicest I have ever been in. From the lockerrooms, media rooms, referee rooms, lighting, seats, player's benches, boxes… everything was designed, constructed, and built to perfection. It is in a word, incredible. A true hockey cathedral for us purists. I am excited to watch our team play and see how it turns out on television and YouTube.
Speaking of YouTube, it appears we are all set to broadcast this event on the NAHLTV YouTube page. I met with the media folks of the KHL (professional hockey league in Russia) and the MHL (junior hockey league in Russia) and got everything squared away for the broadcast. On Saturday night, we should be able to plug right into their video feed with plenty of internet speed and give you fans at home a great call of the game.
The practice was spirited and intense. Scott (Langer) and Rocky (Russo) put some great practices together and the guys are always moving. There is not a lot of standing around at practice. I think when the day was done, the reality of what we are about to do has definitely hit us. It is go time!
Friday will be an exciting day as we practice in the afternoon, which is then followed by the Opening Ceremony for the event. Our three captains, Jake Beaune, Nick Trela, and Austin McCarthy all have to be in their full gear. Oh yeah, we have a special guest coming to the event to speak to the players and audience and it is none other than the Russian President himself, Vladimir Putin.