Team NAHL falls to Karpat in World Cup opener, 5-1
August 24, 2019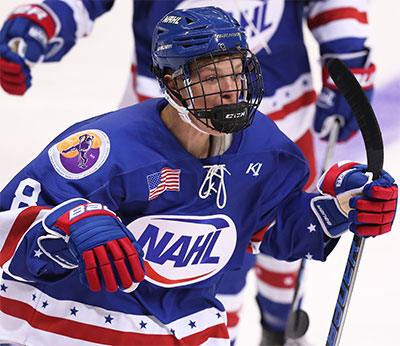 Sirius Ice Hockey World Cup, Round-Robin Game #1: Team NAHL 1 vs. Oulun Karpat 5 – Team NAHL dropped their opening game of the World Cup, 5-1 to the defending champions of the Finnish SM Liga, Oulun Karpat on Saturday night at Shayba Arena in Sochi.
Karpat, who has two NHL Draft picks on the team and six players with international experience, showed why they are Champions of the SM Liga with crisp passing, an efficient power play, and years of experience together.
Things couldn't have gotten off to a better start for the NA as just :20 seconds into the game, Nate Horn (Minnesota Wilderness) scored the first goal in Team NAHL history as got free behind a Karpat defender and wired a wrist shot that beat Karpat goalie Joel Blomquist.
Karpat had almost an immediate answer as Petteri Puhakka was the beneficiary of a nice 2 on 1 as he first a slap shot past NAHL goaltender Mattias Sholl (Fairbanks Ice Dogs) to tie that game at 1-1 less than three minutes into the game.
Late in the period, Karpat took advantage of a 5 on 3 power play as Aatu Ryatu snuck behind the defense, circled behind the net and feed a pass in front for Essay Moylanen who beat a sprawled Sholl for a 2-1 lead after one period.
Karpat again would take advantage of Team NAHL penalties as midway through the 3rd period Zdenek Sadlak poked home a loose rebound after Sholl had made the initial save to make it a 3-1 game.
In the 3rd period, Karpat put the game out of reach with yet another power play goal, this time from Ryatu, who was a thorn in the NAHL's side all night. Karpat rounded out the scoring in the 3rd period to make it a 5-1 final as Elias Hyuvarinen fired a shot from the point that deflected past Sholl.
Karpat outshot Team NAHL 44-15 for the game and was 3 for 8 on the power play, while the NAHL was 0 for 4.
Sholl made 39 saves in the loss, while Blomquist made 14 saves in the win.
Team NAHL will next take on Red Bull Salzburg on Monday, August 26th at 7pm in Sochi (Noon eastern).