The Russia Chronicles, Day 8
August 24, 2019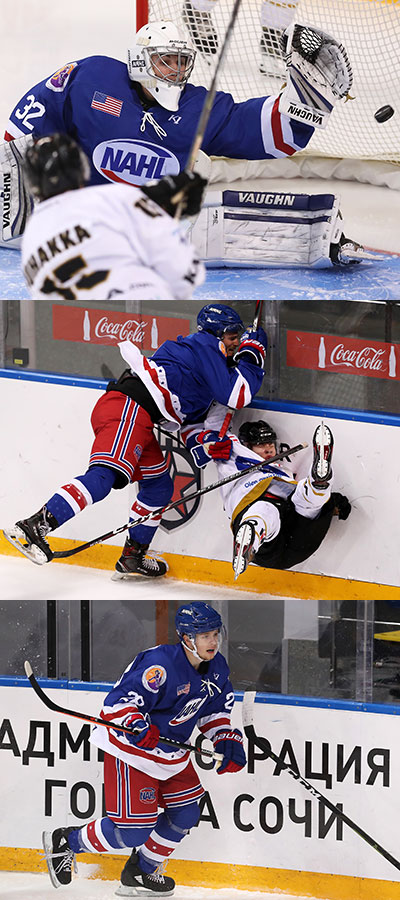 North American Hockey League Director of Communications, Marketing, and Sales, Alex Kyrias, will be chronicling every day of Team NAHL's trip to Russia, including stops in Moscow and Sochi for the 2019 Sirius Junior Club World Cup.
The Russia Chronicles, Day 8: You can't win 'em all
Saturday was all about our first game against Oulun Karpat, who are the defending Champions of the SM Liga, which is the top junior league in Finland. Preparations came well before the game as a group of us made it over to the arena four hours before game time to catch the other game in our Pool, which took place prior to our match.
I think everyone was excited to finally get going and it was good to be back on the air again. It has been a while since I last called a full hockey game. Like playing hockey once was, broadcasting is a passion and hobby of mine. It combines two things that I really love, hockey and vocal performance. Growing up I was a goalie and a singer, so broadcasting hockey games really involves the knowledge of both. There are three core beliefs I have kept to myself the entire time when calling a game… be entertaining, be interesting, and be respectful. It was like riding a bike, but it felt good to be back behind the microphone.
I don't want to break down what happened every goal or period, we will let the game summary do that.
You can read the game recap here
. But I will offer some thoughts...
First off, Karpat is good and experienced. They have two NHL Draft picks on the team and six players have experience playing in International tournaments. Nothing against our upcoming opponents Red Bull Salzburg and HC Ocelari Trinec, but I think the common belief is that Karpat was going to be the toughest test in the round-robin. They come from one of the top four hockey nations in the world and they play fast and quick.
The penalties were a big factor in the game. I think it was more of not being used to the rules that anything else. Some of the hard hits or light clutching and grabbing are simply not tolerated in International play. I was perplexed at the penalty given to goalie Mattias Sholl for delay of game when he covered the puck outside the goal crease area. Sholl had made a save from the right post and his momentum had spun him around to the side of the net, where he made a save. However, because he did not play the puck, he was issued a delay of game penalty and Karpat would score one of three power play goals on that man advantage.
The 5-1 final was a reality check for Team NAHL. It is a reminder that there are really good hockey players at this level all over the world. One of the reasons we are over here is to expose people to our brand and educate them about all of the good things about what the North American Hockey League has to offer from its history, to its owners, to its coaches, to its exposure events... there is a lot to like and be said about playing in the NAHL. It is tough for American Universities to scout in Europe, which is a big reason behind why so many European players come to the United States if playing in the NCAA is their dream. This is a part of this global mission.
The NAHL has never been represented internationally like this, so stepping onto the ice was a milestone in itself. I was really proud to see the guys play hard and represent the league and the red, white, and blue, but it just wasn't meant to be in Game 1. We know we have a lot of work to do in a short period of time. At the end of the day, your tip your cap to a better opponent on this night and get better at practice tomorrow.
The loss really makes Monday a must-win game if we want to move onto the Semi-Finals. Red Bull won their game 6-1, so they will be riding high and it will be another stiff challenge. On Sunday, the team has a tour of the Formula 1 track in Sochi followed by a team practice. The hope now is we continue to team build and get better each day of this trip.