The Russia Chronicles, Day 9
August 25, 2019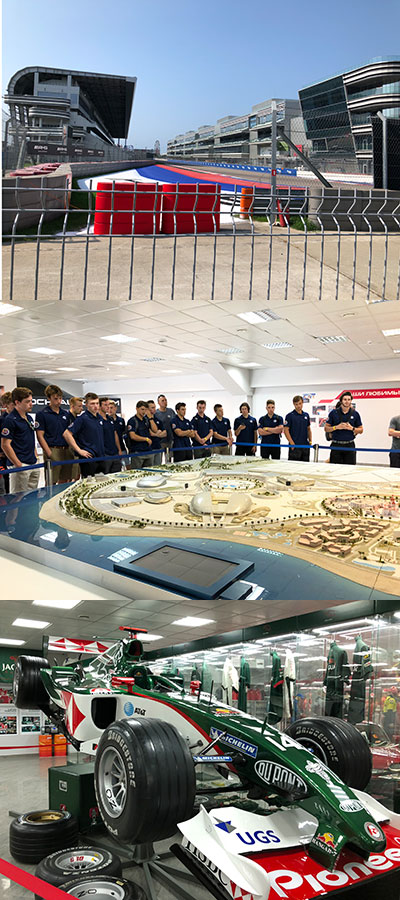 North American Hockey League Director of Communications, Marketing, and Sales, Alex Kyrias, will be chronicling every day of Team NAHL's trip to Russia, including stops in Moscow and Sochi for the 2019 Sirius Junior Club World Cup.
The Russia Chronicles, Day 9: Finding the right 'Formula'
It's Sunday in Sochi and the team building continues. The morning provided Team NAHL a chance to get away from the rink a bit and have another excursion. This time it was to the Sochi Autodrom, which is home to the most modern racing circuit in Eastern Europe and the only circuit in Russia hosting a Formula 1 Grand Prix. This year's Formula 1 race takes place from September 27-29 in just about a month.
The location of Sochi Autodrom makes it special - the circuit is located in the Olympic Park, which hosted the Olympic Winter Games in 2014. The Main Grandstand, which is where we entered, is positioned alongside the start and finish line and gives spectators a stunning view of the opening ceremony, the start of the race, an unsurpassed work of mechanics during pit stops, the drivers fighting for the first turn, as well as, the view of the winner's finish and podium.
As for the tour, it was another really neat experience. Inside the main grandstand as your enter is an incredible automobile museum, which pays homage to just about every car you can think of. I saw a 1960 Buick Skylark, a 2018 Aston Martin Vantage, a 1983 Delorean, a 2014 Lamborghini Diablo… you name it. I think the guys got a real kick out of it because in forward Andrew DeCarlo's words, "the guys really like cool cars."
We got a team picture at the winner's podium and had a really good time at the facility. The track winds in and out of the Olympic village and was very close to our hotel, so it was a short trip there and back so guys could keep the focus on what we came here to do, which is win some hockey games.
Overall, this has been an incredible trip. Everyone here is so appreciative of the opportunity we have been given to represent the North American Hockey League and the United States. Other than 'thank you,' it is hard to find the words to those within the league that made it possible. I can't express enough how much I feel that this should become a regular thing for the league. Only time will tell if it will and what it looks like moving forward, but I think we belong here and it certainly helps increase our global exposure.
So, it was back to work at practice after Saturday night's loss to Karpat from Finland. The reality is we now need to win our next two games if we expect to advance to the Semi-Finals. A loss on Monday to Red Bull Salzburg from Austria would almost certainly eliminate Team NAHL from contention. That is a sobering thought for all of us, but I know the staff and players are bound and determined to keep working hard, keep building as a team, and keep trying to find the right formula.
One of the challenges here is that the formula for success on the ice is a little different than that of the NAHL. I think in the NAHL if you have depth at scoring, defenders who can beat a forecheck and make good outlet passes, and play a physical game, you are probably on the right track. However, in Europe against junior teams that have been together for years, you have to change it up, and that's what Team NAHL is working on.
It is really about time and space. In watching team's like Karpat, or Lokomotiv from Russia, or our opponents on Monday from Salzburg, they all are spot on with their passes and they all use the entire ice surface. They find the open passing lanes and they don't hesitate. We are going to have to do the same. We are going to have to get gritty. By that I mean we are going to have to win races to the corners and in front of the net and try and get some 'garbage' goals, which is to say goals that are scored because someone is paying the price in front of the net and creating havoc for the opposition. Because the ice is so big, very few goals are going to result of a laser-type shot from 30 feet away. The goalies are too good at this level.
As with any new team, our special teams have to be better on Monday night. We were 5 for 8 on the kill, allowing three power play goals, and 0 for 4 on the man-advantage. Time makes those statistics better, but right now it has to click for us because Monday night is on the horizon and Game #2 is now a must-win for Team NAHL.