The Russia Chronicles, Day 10
August 26, 2019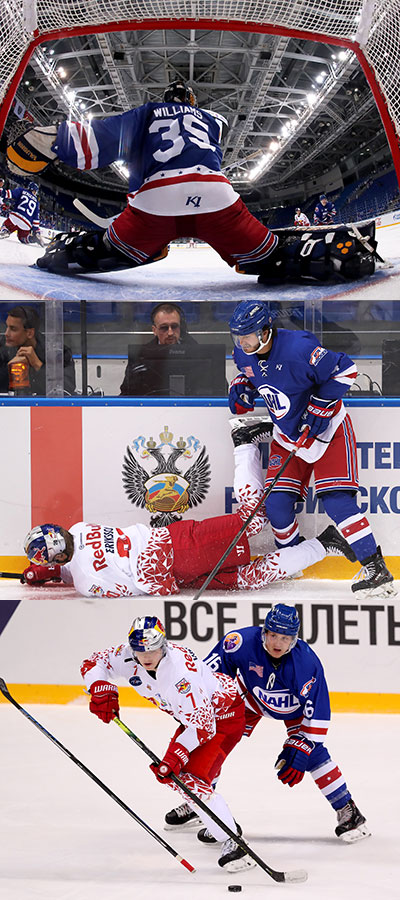 North American Hockey League Director of Communications, Marketing, and Sales, Alex Kyrias, will be chronicling every day of Team NAHL's trip to Russia, including stops in Moscow and Sochi for the 2019 Sirius Junior Club World Cup.
The Russia Chronicles, Day 10: Winner, winner… Kuritsa* Dinner!
*Kuritsa is chicken in Russian
No matter what happens from this point forward with our trip, I think I can safely say I experienced my favorite part thus far. We have been to a lot of places and seen a lot of things. These are moments and experiences that we all will likely never do or see again. However, I don't think I will ever forget the first time that I was a part of a team that heard the Star Spangled Banner played after a international competition win.
After Monday's night's 3-2 win in a must-win game against Red Bull Salzburg, Team NAHL stood there for one minute, in solidarity, along the blue line, and listened to their National Anthem played. Most of the time when we hear our anthem played it is to 'honor America' at a sporting event, right? Well, this time it was for them. It honored their hard work, determination, and triumph, and they were rewarded with listening to that glorious song. You can't spell NAHL without the word American and that's what we all were last night. It gave me a sincere sense of pride.
I think for Team NAHL to put together 60 minutes of hockey like that, particularly the first 30, was incredible after just 10 days (2 games, 7 practices) of being together. If we play like we did in the first 30 minutes the rest of the tournament, we have a good chance against anyone, even the Fins or the Russians.
So we had to win, we did, and now it is on! The team will practice on Tuesday, and likely take it easy and get some rest the remainder of the day. We have some bumps and bruises to mend, but we have a very capable trainer in Devin Spears, who is a pros pro. Me? I think I am going to go for a nice walk to the beach and dip myself baptism style in the Black Sea. That way I can always say that I stepped foot in the Black Sea. Maybe it will have magical powers to help us win another game?
While the win kept Team NAHL alive, some things have to happen on Wednesday for us to advance to the Semi-Finals, so here is that scenario:
1)
We have to beat HC Ocelari Trinec.
2)
We really need Oulun Karpat to defeat Red Bull Salzburg in their game prior to ours. The good news is we will know what we need to do before our game because the Karpat vs. Red Bull game is before ours. If that happens, Karpat would be 3-0 and Team NAHL would just need any type of win to secure 2nd place and a spot in the Semi-Finals.
3)
If Red Bull were to somehow beat Karpat and Team NAHL were to beat HC Ocelari Trinec, then three teams would have a 2-1 record. The two teams with the best goal differential would advance, which would likely be Red Bull and Karpat. Currently, Karpat is a +7, Red Bull is a +4 and Team NAHL is a -3. That means if Red Bull won by a goal over Karpat, they would be a +5, Karpat would be a +6. Team NAHL would then have to win their game over HC Ocelari Trinec by 8 or more goals. Confused? Me too.
If all that works out and Team NAHL takes care of business on Wednesday, they would secure a spot in the Semi-Finals. Their reward? A prime time game on Friday night against the defending champions and Russian host Lokomotiv in front of what would be probably a sold out crowd. Lokomotiv is arguably the best junior club team in the world that isn't major junior. I seem to remember an American underdog team playing a Russian team in hockey and pulling out a stunning win one time… hmmmm. I suppose it could happen again? One can only dream.
Lastly, today Team NAHL GM Tony Zasowski and I are connecting via conference call and FaceTime with the rest of the NAHL staff. We have this little thing called the NAHL Showcase coming up in a mere 23 days and you don't put together the 'Greatest Show on Ice' without some serious planning. Speaking of that, I hope to see all of you at the Showcase. If you haven't been, it is a must-see. This will be the 17th year of it and my 13th personally (10 with the league, 3 with a team), which makes me sound old, but every year I am marveled of the grand scale of the event. It is always exciting to see familiar faces and new faces, but there really is no other event like it, so I invite you to come see it.