The Russia Chronicles, Day 12
August 28, 2019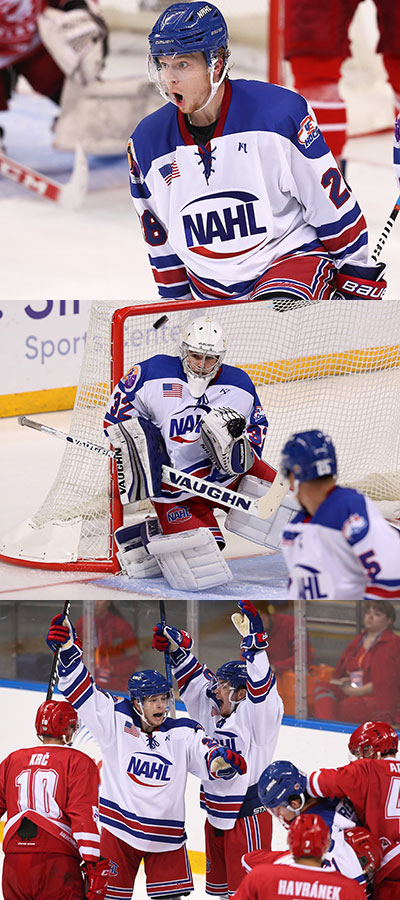 North American Hockey League Director of Communications, Marketing, and Sales, Alex Kyrias, will be chronicling every day of Team NAHL's trip to Russia, including stops in Moscow and Sochi for the 2019 Sirius Junior Club World Cup.
The Russia Chronicles, Day 12: Czech Mate
When you let out the air of a balloon, there are three ways it can happen. 1) You pop it. 2) You release it and it makes a funny sound and whirls all over the room until its out of air and lands in a heap, or 3) You slowly release the air, holding the ends tight while it makes a very high pitched sound until after a while you are finally out of air.
What happened to Team NAHL on Wednesday night was the later. It was a slow and painful process, and it no doubt hurts. Needing just a point to move onto the Semi-Finals against the Russian hosts and defending Champions, Lokomotiv, Team NAHL fell one goal short in a 3-2 loss to HC Ocelari Trinec from the Czech Republic.
The loss means that Team NAHL finished 3rd in the pool, losing out on the tie-breaker to a team they beat earlier, Red Bull, simply because Red Bull scored more goals against Trinec and finished with a +4 goal differential with the teams that were all tied, while Team NAHL was a 0.
There is still one more game to go, as Team NAHL will play in the 5th place game against a very tough opponent from Sweden called MoDo. The game will take place on Thursday, August 29th at 7pm locally (Noon eastern, 11am central) and you can watch the game here:
www.youtube.com/user/NAHLTV
I know the guys would appreciate your support!
Back to the game… No offense to our Czech counterparts, but we were the better team. We simply did not get many bounces or calls to go our way and that is the way hockey goes sometimes. I have been on the other end of it plenty of times, when your team gets woefully outplayed, and you look up at the scoreboard at the end and you somehow have more goals than the other team and are thinking 'how did that just happen?'
The loss was a combination of many things: Zero puck luck, bad bounces, some calls that didn't go our way, maybe a lack of urgency at times, but Team NAHL put up over 40+ shots on goal and it took until the 56-minute mark for us to find the back of the net. We hit posts, had two video reviews not go our way… it all was the perfect storm for what happened.
After goalie Mattias Sholl was run over by a Trinec player only to see no call was made, he then barely collected his bearings only to see a shot from the high slot whiz past him for what would be the game-winning goal. It was a real gut punch and the guys could have just folded the tent. But, in true American fashion, we didn't give up and made it a game until the very end, as we scored twice in the final three minutes and had some pressure on them in the final :30 seconds with several chances just missing.
After the game, the lockerroom was about as somber of a place as could be, almost like a funeral. I think the guys all felt like they should have won the game and let one another down.
A quick reminder, this team has been together 12 days. It is a mix of one player from each team in the league who are serving as Ambassadors in a sense to come over here and play for a higher purpose. Given the circumstances, I think there is still plenty to be proud of. Not just with how they have played on the ice, but the way they have represented themselves off the ice.
They know they have one more game together and then that will be it. You may as well make the best of it and try and try to go out on a high note. When they get home and all see one another in a few short weeks at the Showcase, they will be enemies again, but nothing will take away from the experience that continues on until we fly home on Sunday.