Team NAHL wins World Cup finale over Swedish power MoDo, 3-2
August 29, 2019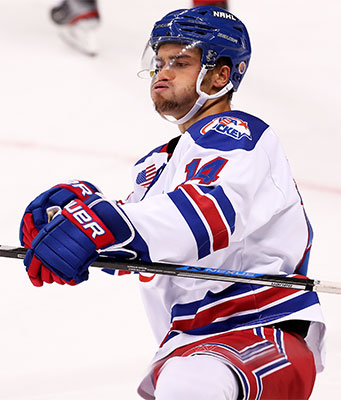 2019 Sirius Ice Hockey World Cup, 5th Place Game: Team NAHL 3 vs. MoDo (Sweden) 2 – For one last time, Team NAHL skated together in one final game, which was the 5th place game at the World Cup.
Thanks to a three-goal, 2nd period, Team NAHL pulled out a gutsy 3-2 win just 24 hours after a 3-2 loss, which saw them fall a goal short of the Semi-Finals.
"I was proud of our guys and the way they responded. We could have easily come out and played flat, but we played with a lot of pride and grit and they represented themselves, the NAHL, and the United States with the type of effort we can be proud of," said Team NAHL head coach Scott Langer.
The 1st period went scoreless, but Team NAHL had the more quality scoring chances. Modo also had a couple of good opportunities, but Team NAHL goaltender Jack Williams (Springfield Jr. Blues) was there to thwart each effort.
In the 2nd period, Team NAHL got on the board first on their second power play of the game as Nate Horn got free down the left side and waited until the last second to slip a pass through the crease to streaking defenseman Jake Beaune (Aberdeen Wings) who put home the back door pass for his first goal of the Tournament and a 1-0 lead for Team NAHL.
The lead increased to 2-0 later in the period as Max Borst (Maryland Black Bears) beat a defender to the outside and sent a one-handed shot towards the net. MoDo goalie Marcus Nygren. However, Nygren mishandled the rebound and the puck popped into the net for the two-goal edge.
The lead increased to 3-0 as Killian Kiecker-Olson (Chippewa Steel) scored a highlight reel goal as he streaked down on the left hand wing on a 1-on-1, did a spin-o-rama move on the MoDo defender, and then slid a backhander under the pads of Nygren for a three-goal edge.
In the 3rd period, MoDo made a furious comeback. They got on the board thanks to a one-timeblast from defenseman Oskar Edmundsson, which Williams low to the glove side.
10 minutes later, they drew to within one goal as a shot from the high slot from NHL prospect defenseman William Wallinder beat a screened Williams. Team NAHL and Williams argued he was interfered with on the play and despite video evidence showing he was bumped in the crease right before the shot was taken, the goal was allowed to stand.
However, Williams held the fort the rest of the way as Team NAHL picked up the 3-2 win.
MoDo outshot Team NAHL 33-27 in the game, with Williams making 31 saves and picking up his second win of the event, while Nygren made 24 saves in the loss.