The Russia Chronicles, Day 13
August 29, 2019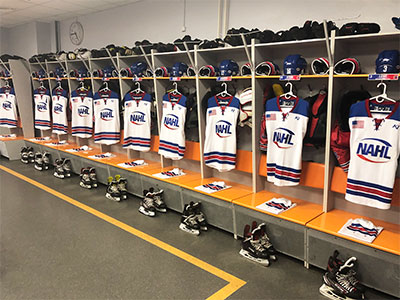 North American Hockey League Director of Communications, Marketing, and Sales, Alex Kyrias, will be chronicling every day of Team NAHL's trip to Russia, including stops in Moscow and Sochi for the 2019 Sirius Junior Club World Cup.
The Russia Chronicles, Day 13: The End Game
"Our greatest glory is not in never falling, but in rising every time we fall." – Confucius
Two weeks ago, 23 fresh-faced kids arrived in Chicago not knowing what to expect. While a few were from the same area and knew one another through youth hockey, the majority were strangers who were asked to begin a quest together on the ice that would take them to a foreign land as they set off to represent themselves, their teams, their league, and their Nation.
Mission Accomplished.
On Thursday night, Team NAHL skated together for one last time and made it count as they picked themselves up off the ground after a heart-breaking loss on Wednesday and turned around and defeated MoDo from Sweden in the 5th place game on Thursday by a score of 3-2.
From the start, the game was being played differently than what we had experienced the three games prior, which was to say that the officials were letting the two teams play and not calling every infraction they saw. That really favored Team NAHL because those are the rules we are used to in America. Guys played hard, they hit, they followed through with their checks, there was pushing and shoving after the whistle… it was good and refreshing to see.
The first 40 minutes were dominated by Team NAHL. The guys played smart and hard and outchanced their opponents. While goalie Jack Williams was busy shutting the door in goal, Team NAHL scored three times in the 2nd period to take a 3-0 lead. Then we had to survive a late push by MoDo, which we did and picked up the win in our final game.
While we didn't win a medal and went 2-2, I think hearing our anthem in our final game as a team and the end of this 13-day long battle was enough for me. I think everyone here from the Russian organizers, to the other teams, to the fans, were very satisfied with what they saw and how the North American Hockey League was represented. From everything I heard, they would love to have us back.
While there may be other teams from the NAHL that continue to come to Russia for the Ice Hockey World Cup (and I truly hope there are), there will only be one that was first and it was this group of guys. I don't pretend to know them all very well, but I have talked with each one of them multiple times on the trip and they all seem like really good guys, who are here for one reason… opportunity.
And, there in lies another reason that the North American Hockey League does things right because they are all about the opportunity for players. Whether you are playing in Fairbanks, Alaska, or Lewiston, Maine, or Corpus Christi, Texas, you have an opportunity to do something special. I bet when each of these players started their NAHL careers, they had no clue that they would be a part of something special and the opportunity like this trip has been.
I would love to see this team keep playing, but alas, it is over. We now spend a few more days in Sochi followed by a long journey back home. Guys will immediately head to their NAHL teams as the 2019-20 season is upon us and they will become opponents once again. As I told them in the lockerroom after the game, in less than three weeks you will all be back together again at the NAHL Showcase, but you will be staring across the ice at one another instead of sitting on the same bench. However, I would imagine the handshakes and memories will continue to be shared after the game.
I hope they make the most of the next few days, because the upcoming hockey season is a long and hard one that doesn't end until mid-May for four lucky teams, but they deserve to enjoy the rest of this trip and have some fun. Soak it in boys, you have earned it and I stand up and applaud your effort the last two weeks. You have made us proud.