The Russia Chronicles, Day 14
August 30, 2019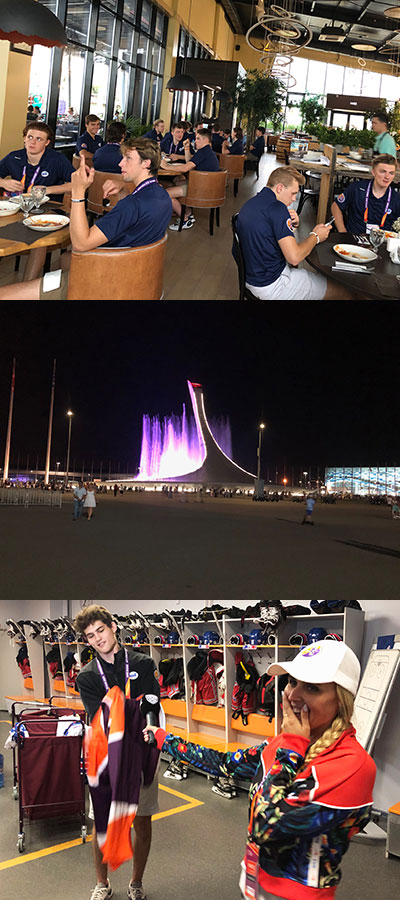 North American Hockey League Director of Communications, Marketing, and Sales, Alex Kyrias, will be chronicling every day of Team NAHL's trip to Russia, including stops in Moscow and Sochi for the 2019 Sirius Junior Club World Cup.
The Russia Chronicles, Day 14: The Sweethearts of Sochi
Friday was the first day on the trip that Team NAHL didn't have any skating to do, hockey to play, excursions to go on, or were traveling from point A to point B, so many of us decided to see what the surrounding area had to offer. Trust me, we would have loved to have been playing in the Semi-Final game against Lokomotiv, but the win over MoDo yesterday was pretty sweet and ended things on a high note.
I must tell you that we aren't the only ones that wanted to see us keep playing. I think the majority of the Russian delegation and their KHL (pro league) and MHL (junior league) media departments were also rooting hard for us. They have been great to work with and have really taken a liking to our players and staff. We have received a lot of comments about how our presence has grown their social media and how nice all the players have been.
The players did a variety of things on Friday. Some went to the beach to check out the Black Sea, others went out to lunch, and I know some still wanted to see some of the sights in the Olympic village and search for items and memorablia to bring home to family and friends.
For dinner, instead of the regular hotel buffet, we treated the guys to a team meal at a nice Bistro, which was located right across from the arena and settled next to the Black Sea. Everyone had Rigatoni Bolognese (pasta shells with meat sauce) and it was really good! It was certainly a nice break from Russian hotel food. We walked as a team from the hotel to the restaurant, which is right along the coast and the guys were getting some looks from all the locals and tourists. Cute Americans!
After dinner, we then headed to the Semi-Final game between Lokomotiv and Red Bull for a bit. While on the way there, I got a text from one of the Russian media directors of the event asking me for an interview with Nick Trela, one of our forwards. I thought it was strange because we had been done for 24 hours and weren't playing anymore.
Once we got the arena, we set up this interview in the lockerroom. They had their camera crew there and famous Russian TV host Dasha Mironova there to do the interview. She is very popular in Russia and she said one of the reasons she was in town for the event was to specifically follow the team from America. Anyway, she started asking Nick some pretty light-hearted questions… did he have a girlfriend? What are some of his favorite things about Russia? What does he do in his spare time?
After a while, she said that she had done a poll on Instagram during the Tournament and that her followers had named Nick the 'Cutest Player' of the event. Wow! She explained to him that it was a landslide victory and many of her followers were pretty enamored with him and thought he was a sweetheart. Well, chalk one up for the Americans! She presented Nick with a Tournament jersey that was signed and posed for a picture. I am sure he won't get any flack at all from his teammates and friends…
After the game, we walked to the Olympic Square where all of the flags of the Nations are still displayed five years later and saw the tower and cauldron where the Olympic Flame was lit. What a cool sight at night! It is lit up and surrounded by a lighted fountain display that rivals that of the Bellagio in Vegas. There were thousands of people there and it was a really cool sight to see.
Another great day in Sochi. We have one more full day here on Saturday and then are headed home on Sunday, so trying to make the most of the final days of our memorable trip.