The Russia Chronicles, Day 15
August 31, 2019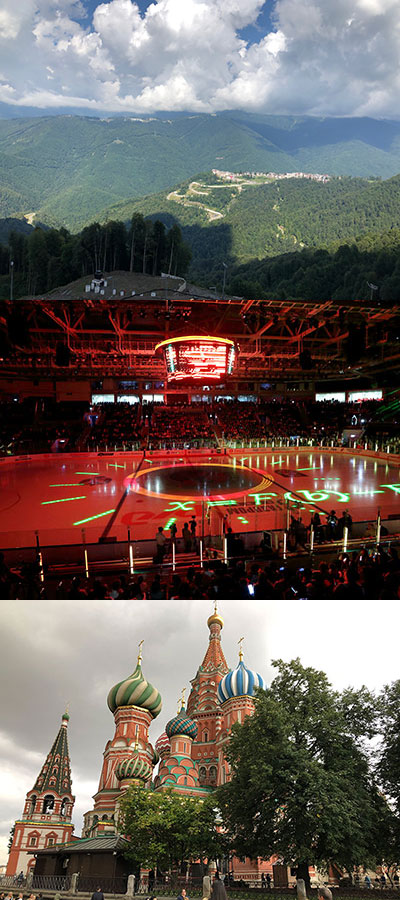 North American Hockey League Director of Communications, Marketing, and Sales, Alex Kyrias, will be chronicling every day of Team NAHL's trip to Russia, including stops in Moscow and Sochi for the 2019 Sirius Junior Club World Cup.
The Russia Chronicles, Day 15: Sky High
Russia has been full of surprises. On Saturday, I was fortunate enough to venture out to a little town 45 minutes away called Rosa Khutor in Krasnodar Krai, Russia. It is about an hour East of Sochi and is a little mountain town in the Western Caucasus Mountains. It was constructed from 2003-2011 and hosted the alpine events during the 2014 Winter Olympic Games.
It was just an incredible scene. Everything was obviously relatively new, so there wasn't a lot of the historic buildings we have seen on this trip. However, it had all the looks and feels of a European mountain town. I took the Caucasus Express gondola, which climbs to the summit of Roza Peak at 7,610 feet. It took at least 25-30 minutes to get to the top. Once there, the views were spectacular although the weather was such that during the ascension, we actually passed through clouds, so we could not see all the way down. I bought some more souvenirs, had a little lunch and then headed back to Sochi.
We leave on Sunday, so our trip in nearing an end. I think everyone is eager to get back home and start skating with their respective teams because training camps and even pre-season games are well underway at this point.
I have one more edition of the Russia Chronicles after this one to kind of sum up my thoughts on the trip, but while we have the chance, I wanted to recap some of the things on our trip. Instead of giving grades or a plus or a minus, I am just going to mention some things that really stood out to me, good or bad…
The event: The event itself is what we came here for and was an incredible experience. The team was treated very well and everything was very well run. The language gap was quickly closed with the help of translators, so overall I think it was remarkably organized. I think the NAHL should do this every year.
The venue: Shayba Arena is one of the best of its kind in the world in my opinion. I stated in an earlier blog that I thought it was one of the nicest in the world for its kind and I reemphasize that. Everything from the lockerrooms, to the ice, to the benches, to the media room, to the stands, to the scoreboard, to the sound system, to the practice facilities is just world class.
The games: The games were incredible and thrilling. We forget sometimes in North America that there is junior hockey outside of the US and Canada. Not only is there junior hockey, but there is some incredible junior hockey. Lokomotiv (who won the gold medal at the event with a win on Saturday night) could be one of, if not the best junior team in the world. They have eight NHL Draft picks on their team. It was incredible competition for it being only August.
The scenery: Sochi and Moscow are both beautiful and incredible. Any type of remnants of old 1970's/1980's Soviet Russia is basically gone and everything is remarkably clean and modern. Yes, there are an incredible amount of old structures, churches, and buildings, but both locations are very modern and Russia is an incredible destination on anyone's bucket list. People have to remember that Russia is the biggest country in the world by area, so there is so much to explore and see.
The architecture: I think what we saw at the Kremlin Grand Palace will stick with me forever. I am not sure there is anywhere else in the world that has the type of architecture that Russia does. I have been to Greece and seen the Parthenon, I have been to churches in Europe where Mozart once played, and I have been to Sydney and seen the opera house and bridges, but I'm not sure anything will top what we saw at the Kremlin and Red Square.
The people: I thought the people were great and hospitable. I think the Russian language clouds that sometimes because as I heard someone comment, "even when they are saying something nice, the language makes it sound like they are upset or mad." It is true. I can't say enough about those of the staffs of the KHL and MHL that helped organize the event and the media during the tournament. While they didn't speak a lot of English, they were helpful, professional, and were able to assist with any type of problem.
The food: Some liked it, some didn't. I personally was on a quest just about every meal for something Americanized. I am a picky eater, so it was to be expected. I think breakfast was the biggest hurdle. There are a few American staples at breakfast… eggs, cereal, hash browns, bacon, toast or bagel, Starbucks, etc. In Russia, they love their fish (of any kind), cabbage (served literally meal), soup (also served every meal), and meat. They served pancakes, but there was no such thing as maple syrup. They served juice, but what the heck was in it? It was an adventure to say the least. I know a couple of times the guys got McDonalds or Papa Johns and it was a welcome break.
Ice: Where is the world is all the ice? We take ice for granted in the USA. It is available everywhere we go… home, work, restaurants, hotels, grocery stores. There are even stores and stands that just sell ice. However in Russia, I felt like Indiana Jones on an adventure and mission just to find ice. Russians say that putting ice in drinks changes the flavor. They also think that making ice at the rate Americans do is a waste of power and water. Maybe so, but I can't to get home and have a big 'ol glass of iced tea.
The internet: No comment
The trip: A once in a lifetime experience. Like I said, I will sum up things in one more post, but this was incredible. I enjoyed watching the players react to just about everything. The difference in culture is obvious, but we all had this common bond of hockey. It was an incredible opportunity and now that its almost over, I think we all made the most of it.