NAHL announces 2020 Virtual Robertson Cup Playoffs
April 15, 2020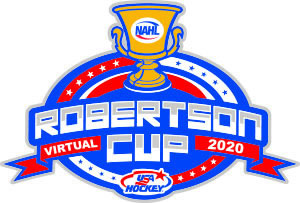 The North American Hockey League (NAHL) is pleased to announce that it will be hosting and simulating the 2020 Robertson Cup Playoffs and Championship live on the NAHL TV YouTube channel beginning Wednesday, April 15th.
Using an XBox One and the EA Sports NHL video game, the NAHL staff constructed the rosters of the 16 NAHL teams from scratch that would have qualified for the Robertson Cup Playoffs this season based on winning percentage when the season was canceled. (Note: Team names may not be 100% accurate as it does not allow for certain city names).
Watch the NAHL TV YouTube Channel here
Then on the schedule based below, the games will be played in 'Simulation Mode' (meaning the XBox computer simulates and plays the game determining the outcome). All games will be streamed and archived on the NAHL TV YouTube Channel and will be promoted to the NAHL social media network.
The entirety of the virtual Robertson Cup Playoffs will be played down until a 2020 Virtual Robertson Champion is crowned on Tuesday, May 12th, which would have been the day the actual Robertson Cup Champion would have been crowned. (Note: The actual Robertson Cup will not be awarded to the virtual champion. This is for entertainment purposes only).
2020 Virtual Robertson Cup Playoff schedule (All Times Central):
Wednesday, April 15th
Topeka vs Amarillo - Game 1 - 2pm
Shreveport vs Lone Star - Game 1 - 4pm
Minot vs Aberdeen - Game 1 - 6pm
Austin vs Bismarck - Game 1 - 8pm
Thursday, April 16th
Maryland vs New Jersey - Game 1 - 2pm
WBS vs Johnstown - Game 1 - 4pm
Kenai vs Chippewa - Game 1 - 6pm
Minnesota vs Fairbanks - Game 1 - 9pm
Friday, April 17th
Minot vs Aberdeen - Game 2 - 2pm
Austin vs Bismarck - Game 2 - 4pm
Topeka vs Amarillo - Game 2 - 6pm
Shreveport vs Lone Star - Game 2 - 8pm
Saturday, April 18th
Maryland vs New Jersey - Game 2 - 2pm
WBS vs Johnstown - Game 2 - 4pm
Kenai vs Chippewa - Game 2 - 6pm
Minnesota vs Fairbanks - Game 2 - 9pm
Sunday, April 19th
Topeka vs Amarillo - Game 3 - 2pm
Shreveport vs Lone Star - Game 3 - 4pm
Minot vs Aberdeen - Game 3 - 6pm
Austin vs Bismarck - Game 3 - 8pm
Monday, April 20th
Maryland vs New Jersey - Game 3 - 2pm
WBS vs Johnstown - Game 3 - 4pm
Kenai vs Chippewa - Game 3 - 6pm
Minnesota vs Fairbanks - Game 3 - 9pm
Tuesday, April 21st
Minot vs Aberdeen - Game 4 - 12pm*
Austin vs Bismarck - Game 4 - 3pm*
Topeka vs Amarillo - Game 4 - 6pm*
Shreveport vs Lone Star - Game 4 - 8pm*
Wednesday April 22nd
Maryland vs New Jersey - Game 4 - 2pm*
WBS vs Johnstown - Game 4 - 4pm*
Kenai vs Chippewa - Game 4 - 6pm*
Minnesota vs Fairbanks - Game 4 - 9pm*
Thursday April 23rd
Minot vs Aberdeen - Game 5 - 6pm*
Austin vs Bismarck - Game 5 - 8pm*
Friday April 24th
Topeka vs Amarillo - Game 5 - 6pm*
Shreveport vs Lone Star - Game 5 - 8pm*
Saturday April 25th
Kenai vs Chippewa - Game 5 - 6pm*
Minnesota vs Fairbanks - Game 5 - 8pm*
Sunday April 26th
Maryland vs New Jersey - Game 5 - 6pm*
WBS vs Johnstown - Game 5 - 8pm*
Monday April 27th
Central Finals - Game 1 - 6pm
South Finals - Game 1 - 8pm
Tuesday April 28th
East Finals - Game 1 - 6pm
Midwest Finals - Game 1 - 8pm
Wednesday April 29th
Central Finals - Game 2 - 6pm
South Finals - Game 2 - 8pm
Thursday April 30th
East Finals - Game 2 - 6pm
Midwest Finals - Game 2 - 8pm
Friday May 1st
Central Finals - Game 3 - 6pm
South Finals - Game 3 - 8pm
Saturday May 2nd
East Finals - Game 3 - 6pm
Midwest Finals - Game 3 - 8pm
Sunday May 3rd
Central Finals - Game 4 - 6pm*
South Finals - Game 4 - 8pm*
Monday May 4th
East Finals - Game 4 - 6pm*
Midwest Finals - Game 4 - 8pm*
Tuesday May 5th
Central Finals - Game 5 - 6pm*
South Finals - Game 5 - 8pm*
Wednesday May 6th
East Finals - Game 5 - 6pm*
Midwest Finals - Game 5 - 8pm*
Friday May 8th
Robertson Cup Semi 1 - Game 1 - 6pm
Robertson Cup Semi 2 - Game 1 - 8pm
Saturday May 9th
Robertson Cup Semi 1 - Game 2 - 6pm
Robertson Cup Semi 2 - Game 2 - 8pm
Sunday May 10th
Robertson Cup Semi 1 - Game 3 - 6pm*
Robertson Cup Semi 2 - Game 3 - 8pm*
Tuesday May 12th
Virtual Robertson Cup Championship - 7pm
*if necessary