September 30, 2020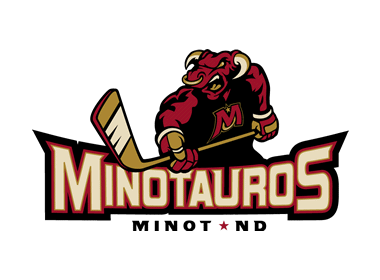 The NA Now series features a look at all teams in the NAHL for the 2020-21 season, with a new team being highlighted daily, leading all the way up until the start of the regular season. NA Now looks into each NAHL team and will include video segments with all the head coaches in the NAHL, as they provide fans with their expectations and outlook for the season, including taking a look at their strengths as a team and thoughts on the league. It will also take a look back on last season and how each team fared and what they accomplished.
Minot Minotauros
Head Coach: Shane Wagner (1st Year)
2019-20 record: 50 GP, 27-16-7, 61 pts. (4th in the Central Division)
2019-20 leading scorer: Kyler Kleven (53 points)
2020-21 Division: Central
First regular season game: Friday, October 9th vs. Bismarck Bobcats
Home opener: Friday, October 9th vs. Bismarck Bobcats
Just a year removed from their remarkable run to the Robertson Championship Game in 2018, the Minot Minotauros went back to work in 2019-20 to try and navigate their way through the always tough Central Division for another chance at glory. Through 50 games of the season, the Minotauros were well on their way of making the Robertson Cup Playoffs for an eight straight season thanks to a 27-16-7 record, which was good for a solid 4th place in the standings.
Just six weeks after the season was canceled, the Minotauros announced that longtime Head Coach and General Manager Marty Murray accepted the same role with the Sioux Falls Stampede of the United States Hockey League (USHL). Murray, who spent eight and a half seasons with the Minotauros as the team's head coach, won 254 regular season games, qualified for the playoffs in each of his full seasons behind the bench, and moved 101 players onto the NCAA during his tenure.
As a result, current assistant coach Shane Wagner was announced as the team's third Head Coach in team history. "When I got to Minot and started to learn the organization from Marty, the front office, and our scouting staff, I came to realize how much work is needed in running an NAHL team. I'm a big believer everything happens for a reason, and I'm grateful for those years I had with Marty and feel more ready than ever," said Wagner. "Minot is a great hockey town and the Minotauros is a great organization."
Watch: Minot Minotauros season preview
So, for the remainder of the summer, Wagner had his chance to put his stamp on the upcoming 2020-21 roster with events like the NAHL Supplemental and Entry Drafts, along with continuing to sign tenders and then eventually run the Minotauros tryout camps. The Minotauros saw eight players make NCAA commitments during the season, something that Wagner says he hopes to emphasize and add to in 2020-21.
"Players need to realize that it takes something special to earn that NCAA commitment. There is a lot of competition out there and there are so many good players just within the NAHL, so our guys are going to have to go above and beyond to work hard and develop to the point where they can be considered an NCAA-type caliber player," said Wagner.
Wagner said that one of the biggest challenges facing the Minotauros currently was the amount of quality players to choose from and finding the right pieces to the puzzle in order to have success. "We have a lot of very good hockey players in the league right now and a lot of good players in training camp. I think because of the teams going dark the pool of players through our drafts and dispersal drafts is very deep, so there are going to be some hard decisions ahead. It will be a challenge to come up with a final roster," said Wagner.
"We lost some high-end forwards from last year. Kyler Klevens, who just committed to Minnesota-Duluth, was a huge asset for us. We tried to find some good young talent to see if they can replicate what those guys did last year and crank it up a bit. We are returning some really great players. I think we also tried to add more size to the back end," said Wagner.
As for returning players, the Minotauros will return forwards like Jack Westlund (26 points), Joseph Harguindeguy (20 points), and Braeden Bartoo (16 points), while on the backend, Will Crull and Nikolai Charchenko are among the returners. "Jack (Westlund) battled his butt off to stay in the line-up last year and his a very hard worker, so excited for what Year 2 has is store for him. Joseph is entering his third season and I think he can take his game to another level higher."
"I think everyone would like to win it all, but I am cutting our expectations down into smaller chunks. We are trying to win each weekend. Splits are OK, but we have to focus on getting better every day. If we start winning weekends, then we focus on winning months, then winning each half of the season, and so on," said Wagner.
Next Up: New Jersey Titans