NA Now: New Jersey Titans
October 1, 2020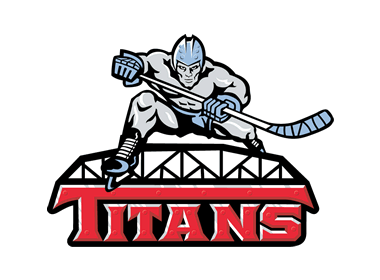 The NA Now series features a look at all teams in the NAHL for the 2020-21 season, with a new team being highlighted daily, leading all the way up until the start of the regular season. NA Now looks into each NAHL team and will include video segments with all the head coaches in the NAHL, as they provide fans with their expectations and outlook for the season, including taking a look at their strengths as a team and thoughts on the league. It will also take a look back on last season and how each team fared and what they accomplished.
New Jersey Titans
Head Coach: Craig Doremus (5th Year)
2019-20 record: 52 GP, 38-13-1, 77 pts. (1st in the East Division)
2019-20 leading scorer: Mitch Machlitt (62 Points)
2020-21 Division: East
First regular season game: Friday, October 9th @ Danbury Jr. Hat Tricks
Home opener: Friday, October 16th vs. Maryland Black Bears
Last year was one for the record books for the New Jersey Titans. The Titans had their best season in NAHL history, as not only did they set franchise records for wins, points, and goals scored, but they also had 18 players with NCAA commitments, including a league-leading 16 NCAA Division 1 commitments.
Unfortunately, the East Division leaders did not get their shot at the Robertson Cup because of the cancelation of the season, something that Head Coach Craig Doremus said that was tough to take, given the time and effort that everyone had put into the team.
"It was sad and disappointing for the players and staff. Last year had a different feel to it and we knew it was going to be something special. We had built that roster for a few years, so we were an older and experienced group. We knew the culmination of it was going to be a year to remember. I am still proud of the way we played and the achievements our players had," said Doremus
Watch: New Jersey Titans season preview
Forward Mitch Machlitt, who is committed to play NCAA Division 1 hockey at Army, finished tied for 4th in league scoring with 62 points and defenseman Cade Penney, who is committed to play NCAA Division 1 hockey for the University of New Hampshire, made the All-East Division Team. Both the Titans goalies Patrick Pugliese (Niagara) and Ryan McInchak (American International) also made commitments. They were just four of the 16 NCAA Division 1 commitments the Titans boasted last season.
"Our goal as a staff has been to get ourselves to the top of the league for NCAA commitments and making sure we are providing our players with every opportunity to play NCAA hockey," said Doremus, who was named the East Division's General Manager of the Year last season. "Every one of them have a unique story about who they are as people and where they come from. There is a lot of emotion involved in making it happen and being a part of that process is so fulfilling. They are going to make an impact on life well beyond when hockey is done. Every guy and commitment is special. It speaks volumes about our organization from the ownership on down."
With the amount players moving on, it is no secret that the 2020-21 roster will almost be entirely new for the Titans, who will return just five players. "We needed to replace just about everything. It starts from the backend and goes out, so had to make sure we had strong goaltending, then defense, then scoring. We have a good foundation. We want to make sure we are structurally sound in our own end, especially with a younger team. We want sustained success, so while this may be a year that features a lot of new players, we have to try and sustain excellence by putting kids in the NCAA and winning hockey games," said Doremus.
Of the returners to the line-up, three are defenseman and two are forwards. Defenseman Brad Zona, who is committed to Army, had 15 points in 47 games and made the All-East Division Rookie Team last season. Also joining him on the blueline is David Parker and Tyler Nasca. Up front, Matt Iasenza returns after putting up 24 points last season and Colorado College commit Jake LaRusso is also back.
"Our veterans saw what worked last year and were part of that experience, so I think they can provide the new players with some valuable leadership. There are many new faces on the roster we have a lot of talented players in camp, but there is a definite lack of NAHL experience. It is just one of those years and wasn't a shock, we knew this was coming," said Doremus. "However, we are really excited about this new group. Our scouting staff did a great job of reloading the talent so we have some sustained success. Everyone is hungry and reinvigorated. I think there is a newfound appreciation of what they get to do on a daily basis."
"We also have had the challenge of adapting to local policies. Obviously, the Northeast is a hot bed right now, but we have managed to adapt and are working to get back to normal."
Next Up: New Mexico Ice Wolves