Brahmas complete sweep on Sunday with shootout win
November 2, 2020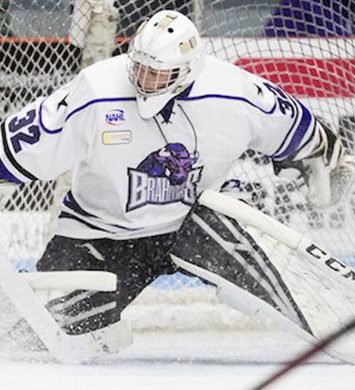 Lone Star 3 @ Amarillo 2 (Shootout) - The Lone Star Brahmas closed out their first road trip of the season with a Sunday matinee shootout win against the Amarillo Bulls.
The opening goal from the Brahmas came on an early power play opportunity in the 1st period as they quickly cashed in when Nicholas Niemo sent the puck to Andrew DeCarlo low on the right wing. DeCarlo with good vision of the ice saw Mitchell Digby sneaking down on the backdoor and hit him with a cross ice pass. Digby did the rest flipping it past the blocker of Cal Sandquist at 0:58.
Lone Star made it a two-goal lead at 2:43 of the second when Zach Purcell grabbed a loose puck and pushed it to DeCarlo in the high slot. The Huntington Beach, CA native spotted Niemo coming out of the near corner with a centering pass that he lifted over Sandquist with a slick backhander.
Amarillo cut the lead in half just four minutes later thanks to a defensive zone turnover at the near halfwall. Harrison Scott grabbed the puck, spun and sent a centering pass to Casey Roepke all alone in front for a one-timer past Graham Burke at 6:52.
Fensterstock knotted the score 2-2 midway through the third after stepping in front of a pass at the Amarillo blueline. He turned up ice, drove the front and put it five hole on Burke at the 9:54 mark. It was the only goal of the third to send the game to overtime and eventually a shootout.
After both goalies stood strong through the first four rounds of the shootout, West Point commit Stefan Miklakos jumped over the boards for the Brahmas. He picked up the puck and carried it wide left then cut back toward the middle. Miklakos faked as if he were going five hole to get Sandquist down then pulled it back and put it over the right skate.
With the game on the line Burke denied Ty Black stopping all five shots faced in the shootout as Lone Star finished off their road sweep.
Burke made 37 saves in the win, while Sandquist made 21 saves in the shootout loss.
Boxscore