November 20, 2020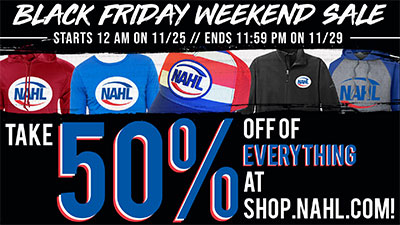 The NAHL continues its navigation through the 2020-21 season this weekend with 12 games featuring teams from all four divisions.
This week was another good one for NAHL players as two more made NCAA Division 1 commitments. The current list of players that are playing in the NAHL during the 2020-21 season who have made NCAA Division 1 commitments to date stands at 141.
In the Central Division this weekend, the Minnesota Wilderness get back into action with a game on Friday night in Austin against the Bruins. The Bruins will then head on the road on Saturday and Sunday to face the Jets in Janesville. The other action sees the undefeated and 1st place Aberdeen Wings on the road to face the 2nd place Minot Minotauros for two games. Minot is 4-0-2 and has yet to lose a game in regulation this season.
In the East, the Maryland Black Bears look for a weekend sweep as they host the Northeast Generals for one more game on Friday. On Thursday, they came away with a 4-1 win as captain Luke Mountain scored twice. The other action sees the red-hot New Jersey Titans, who are 3-0-1 in their last four games, on the road in Johnstown for a pair of games.
In the Midwest, the Janesville Jets host Austin on Saturday and Sunday.
In the South Division, four teams are in action. The 1st place Lone Star Brahmas put their five-game winning streak on the line this weekend on the road against Wichita Falls. The other series has the Shreveport Mudbugs facing the New Mexico Ice Wolves.
Watch all the action on HockeyTV
Download the all new NAHL App today! (iOS - Google Play)
FRI, NOVEMBER 20
Northeast at Maryland - 7:00 PM EST
New Jersey at Johnstown - 7:45 PM EST
MN Wilderness at Austin - 7:05 PM CST
Lone Star at Wichita Falls - 7:05 PM CST
Shreveport at New Mexico - 7:30 PM CST
Aberdeen at Minot - 7:35 PM CST
SAT, NOVEMBER 21
New Jersey at Johnstown - 7:00 PM EST
Austin at Janesville - 7:00 PM CST
Lone Star at Wichita Falls - 7:05 PM CST
Shreveport at New Mexico - 7:30 PM CST
Aberdeen at Minot - 7:35 PM CST
SUN, NOVEMBER 22
Austin at Janesville - 7:00 PM CST