NAHL announces Bauer Hockey Stars of the Week
January 25, 2021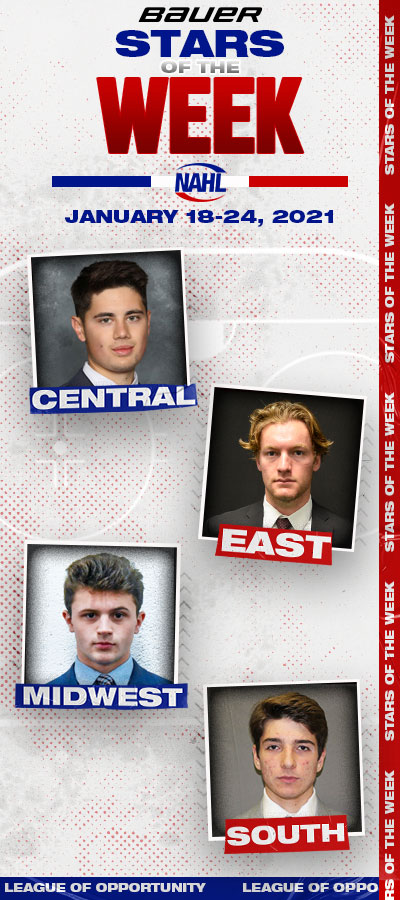 The North American Hockey League (NAHL) today announced the Divisional Stars of the Week presented by Bauer Hockey for the week ending January 24, 2021. The Divisional Stars of the Week is a weekly feature during the 2020-21 regular season that honors the top performing players in each of the four NAHL divisions. Only players that are nominated by their respective teams are considered for the Divisional Players of the Week award.
Watch: NAHL Stars of the Week highlights for January 18-24, 2021
Central Division Star of the Week: Payton Matsui, Forward, Aberdeen Wings
The Aberdeen Wings rolled to another weekend sweep this past weekend against the Fairbanks Ice Dogs in Marshall, MN. Wings forward and leading scorer Payton Matsui, 20, who grew up less than three hours away, continued his torrid January pace with another productive weekend as the Wings put up 10 goals in two games. The 5'8/160 lbs. native of Lakeville, MN, and Alaska-Fairbanks commit, put up six points (2 goals, 4 assists) in the two wins and also had a +4 rating. On Friday, Matsui assisted on both Wings goals in a 2-0 win. On Saturday, he scored two goals, including the game-winner and had two more assists in an 8-0 win. For the season, Matsui is tied for the NAHL scoring lead with 14 goals and is tied for 2nd in scoring with 32 points in 22 games played. "Payton had been a game-changer for this year's team. He plays with so much energy night in and night out. The way he prepares for each series is admirable and a huge part of his success. Payton once again led this team to a big weekend with his ability to play a 200-foot game, and be a key factor in all situations," said Wings head coach Scott Langer.
2nd Star: Jake Sibell, G, Aberdeen Wings
Honorable Mention (alphabetical): Tim Piechowski, F, Bismarck Bobcats – Gavin Rasmussen, F, Minnesota Wilderness – Tyler Shea, G, Austin Bruins – Ryan Taylor, F, Bismarck Bobcats – Hunter Young, F, Minnesota Wilderness
East Division Star of the Week: Luke Mountain, Forward, Maryland Black Bears
University of Vermont commit and Maryland Black Bears forward Luke Mountain had a big weekend to help his team pick up three of four points in a weekend series against the Maine Nordiques. The 6'1/185 lbs. native of Woodbury, MN, had four points (3 goals, 1 assist) and was +3 in the two games. On Thursday, Mountain had an assist in a 3-2 shootout loss. On Friday, he recorded a hat-trick, which included the game-winning goal in a 4-1 win. For the season, Mountain is 2nd in team scoring with 16 points in 18 games played. "Luke always finds a way to get things done and it has been fun to watch him continually develop and produce for us. He can beat you in many different ways, but the #1 ingredient that gives Luke these abilities is his effort. He will not be denied. It shows every single time he steps onto the ice," said Maryland head coach Cliny Mylymok.
2nd Star: Alexander Tertyshny, D, Northeast Generals
Honorable Mention (alphabetical): Jay Ahearn, F, Johnstown Tomahawks - Luke Antonacci, D, Maine Nordiques – Brent Keefer, F, Northeast Generals - Hannes Kollen, G, Maryland Black Bears - Alex Krause, F, Danbury Jr. Hat Tricks – Holt Oliphant, F, Johnstown Tomahawks – Tyriq Outen, G, Maine Nordiques – Jake Veri, F, Danbury Jr. Hat Tricks
Midwest Division Star of the Week: Cole Oravitz, Defenseman, Minnesota Magicians
Thanks to a weekend home sweep of the Kenai River Brown Bears, the Minnesota Magicians moved their 2020-21 season record to an impressive 7-1-0. Magicians defenseman Cole Oravitz, 18, was a key contributor in both wins, putting up three assists and a +4 rating. On Friday, Oravitz had two assists in a 5-2 win, and then on Saturday, he picked up another assist, this time on the game-winning goal, in a 4-1 win. For the season, Oravitz has recorded four points in eight games played. "Cole has been a rock on our back end to this point in the season. He prides himself on being hard to play against, but it is great to see him joining the rush and chipping in offensively, as well. He is a smart player with a tremendous work ethic and great leadership qualities. The sky is the limit for Cole," said Magicians head coach Stu Bickel.
2nd Star: Luke Kron, F, Minnesota Magicians
Honorable Mention (alphabetical): Jacob Conrad, D, Fairbanks Ice Dogs – Bret Link, F, Fairbanks Ice Dogs
South Division Star of the Week: Owen Bartoszkiewicz, Goaltender, Wichita Falls Warriors
Wichita Falls Warriors goalie Owen Bartoszkiewicz, 17, led his team to three wins this past week. The 6'2/195 lbs. native of Rochester, MI, allowed just three goals in three games, stopping 75 of 78 shots in the process. On Monday, Bartoszkiewicz made 28 saves in a 3-2 overtime win in Shreveport. On Friday, he made 25 saves in a 2-1 win over the New Mexico Ice Wolves. The next night, he stopped all 22 shots that came his way for his first shutout of the season in an 8-0 win. For the season, Bartoszkiewicz has a 8-5-1 record with a 2.65 goals against average and .919 save percentage. "Owen has done a great job for us all season long. He brings a high compete level and work ethic every day. His mental toughness and maturity have been the two areas that have improved for him the most and it has been the difference in his consistent play the past month. Owen rose to the occasion this past week in a 3-game set that was huge for our hockey team. He made a couple big time saves that helped get the win in Shreveport and followed up that performance with two incredibly sound games this past weekend. Owen has proven he can be an elite goaltender in this league and we are extremely excited for what the future holds for this young man," said Warriors head coach Garrett Roth.
2nd Star: Arseni Sergeyev, G, Shreveport Mudbugs
Honorable Mention (alphabetical): Mitchell Digby, D, Lone Star Brahmas – Luke Johnson, F, Lone Star Brahmas – Carter Korpi, F, Wichita Falls Warriors – Giovanni Procopio, F, Shreveport Mudbugs – Harrison Scott, F, Amarillo Bulls – Andrew Takacs, G, Amarillo Bulls