Jr. Hat Tricks complete sweep of Generals on Tuesday
May 12, 2021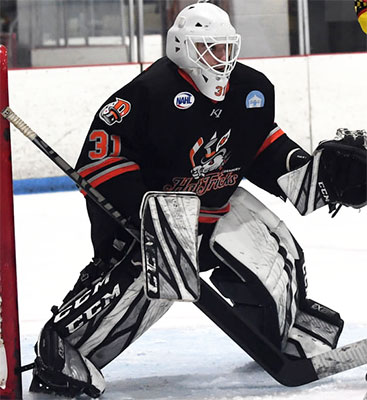 Danbury 5 @ Northeast 1 – Danbury goaltender Josh Seeley made a season-high 49 saves to lead the Jr. Hat Tricks to a 5-1 win on Tuesday, completing a sweep of their mid-week road series against the Generals.
It was all Danbury from the start as they jumped out to a 2-0 lead thanks to 1st period goals from Valentino Passarelli (power play) and Ben Biester (shorthanded).
The lead swelled to 4-0 thanks to two more goals in the 2nd period, including a power play goal from Gabe Dombrowski and another goal from Passarelli.
The Jr. Hat Tricks put the cherry on top in the 3rd period as Dombrowski netted his second goal of the game to make it 5-0. Later in the 3rd period, the Generals spoiled Seeley's shutout bid thanks to a power play goal from Jake Dunlap.
Generals goalie Jake Essensa made 22 saves in the loss, which was his NAHL debut.