Jamestown Rebels sold and relocated to Philadelphia, PA
May 17, 2022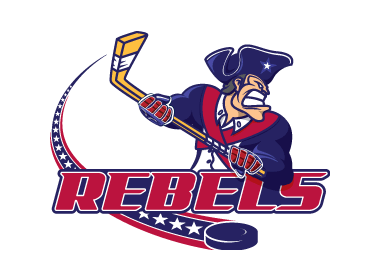 The North American Hockey League (NAHL) has announced that the Jamestown Rebels have agreed to sell their NAHL membership to HSG Hockey LLC. The team will be relocated to Philadelphia, PA, for the 2022-23 season and remain in the NAHL's East Division.
The team will be based and play their home games out of Hollydell Ice Arena, which is 15 miles South of downtown Philadelphia in Washington Township, New Jersey. Over the last five years, Hollydell has been extensively renovated and expanded. With four sheets of ice, a dedicated off ice training facility, eight permanent locker rooms and a full-service bar and restaurant Hollydell is an ideal location for an NAHL team.
Under previous owner Ken Dennis, the Rebels enjoyed several years of success in the Philadelphia area before moving to Jamestown. The team had moved originally from McAllen, Texas, to Aston, PA in 2015. After three years in Aston and Philadelphia the team then relocated to Jamestown, NY. The team made back-to-back appearances at the Robertson Cup in both 2016 and 2017. In 2017, the team lost to the Lone Star Brahmas, 3-0 in the Robertson Cup Championship Game.
"We can't thank Ken Dennis enough for his involvement as an owner in the NAHL the past decade. The Rebels have had a great track record of success during their time in the league, advancing over 100 players onto the NCAA," said Mark Frankenfeld. "This is an exciting step for the NAHL to get back into the Philadelphia-area market and the Hollydell Ice Arena is a wonderful facility with amenities that the NAHL team will enjoy. We expect the tradition of success and advancement that the Rebels have established to continue under new ownership."
"We are very excited to welcome the NAHL back to the Philadelphia region," said Jim Mackey, the owner of HSG Hockey LLC. "Over the last 5 years, we have dedicated ourselves to the development of hockey players at Hollydell Ice Arena. Our hockey staff has done a tremendous job, growing our program from 17 teams to close to 40 teams and 600 players in the 2022-23 season. With the Rebels serving as the pinnacle of our hockey programs, we will accomplish our goal of allowing our players to skate at the highest levels from the age of 8 to 20 years old. We look forward to helping our players move on to even higher levels within the sport."
The NAHL is in the midst of the most opportune times in its 47-year history. In the past five years, 1,500+ NAHL players have made NCAA commitments and 30 more with NAHL ties have been selected in the NHL Draft. In addition, 32% of all freshmen that played NCAA Division I hockey this past season, played in the NAHL. So far during the current 2021-22 season, 260 players have made NCAA commitments.