Amarillo defenseman Simanovics at World Juniors
January 2, 2023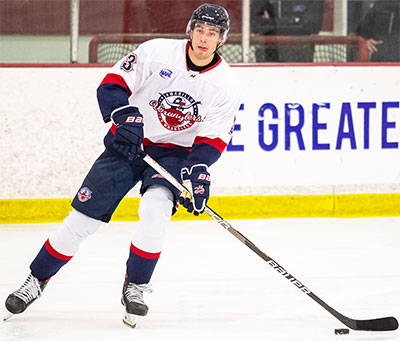 Amarillo Wranglers defenseman Rihards Simanovics is currently making history as the first Wrangler to play in IIHF World Junior Championships.
Simanovics is representing Team Latvia in the 2023 World Juniors in Halifax and Nova Scotia, Canada. Rihards played in the WJC last summer before arriving in Amarillo.
"The Amarillo Wranglers are very proud of Rihards for being able to play for his country at the World Junior tournament in Canada," Team Owner Austin Sutter said.
Simanovics has made a splash in the first half of the NAHL season, being one of the top goal scorers amongst defensemen with seven power-play goals.
"It's one of the most exciting tournaments in hockey throughout the world. It is the highlight of their life, and I look forward to following him," Head Coach Harry Mahood said.
Rihards is one of nine NAHL players in the 2023 IIHF World Junior Hockey Championships. Amarillo Wranglers Director of Player Personel Karlis Zirnis is behind the bench as an Assistant Coach for team Latvia. Team Latvia has six NAHL players on their roster for this year's tournament.
"It speaks to the quality of players that play in this league. That's the type of players we're attracting, and it is fun to be a part of their development," Mahood said.
With his tournament appearance, Simanovics has added to the Amarillo hockey footprint on the biggest stages in hockey. Former Amarillo Bulls coach Dennis Williams is the Head Coach for Team Canada and former Bulls captain John Rey officiated in the 2022 World Juniors.
"We couldn't ask for a better person or player to represent our city, the North American Hockey League, and the Wranglers on the world stage," Sutter said.
The tournament concludes with the championship game on January 5 at the Scotiabank Centre in Halifax, Nova Scotia.