Wolverines, Wilderness, Ice Wolves win on Thursday
February 3, 2023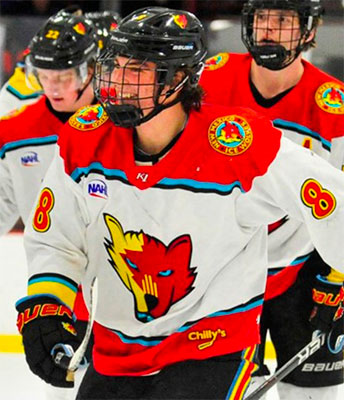 Anchorage 4 @ Springfield 3 (OT) – The Wolverines came from behind to defeat the Jr. Blues in overtime on Thursday, 4-3. After a scoreless 1st period, the Wolverines scored twice in the 2nd period on goals from Jackson Reineke and Andy Ramsey, but the Jr. Blues answered with three goals to take a 3-2 lead with two goals from Cole Lonsdale and another from Hadley Hudlak. In the 3rd period, the Wolverines tied the game with a power play goal from Tomek Haula. In overtime, the game-winner was scored by Trent Powell. Anchorage goalie Eino Rissanen made 34 saves in the win, while Aksel Reid took the loss with 40 saves.
Fairbanks 4 @ Minnesota 5 (OT) – Kevin Marx Noren and Gunnar Thoreson each had a goal and two assists for the Wilderness as they survived a late comeback attempt from the Ice Dogs thanks to a 5-4 overtime win. The Wilderness jumped out to a 3-0 lead in the 1st period with goals from Thoreson, Marx Noren, and Sawyer Scholl. The Ice Dogs scored back-to-back goals from Billy Renfrew and Julian Recine to make it 3-2. Charlie Erickson then scored to make it a 4-2 game for the Wilderness. In the final three minutes of regulation, Fairbanks scored twice on goals from Brady Welsch and Domenick Evtimov. In overtime, the Wilderness secured the win and extra point on a goal from Hunter Bulger. Isak Posch made 22 saves in the win, while Kayden Hargraves made 28 saves in the loss.
El Paso 2 @ New Mexico 7 – Ice Wolves forward Sully Scholle had two goals and an assist to lead his team to a 7-2 win over the Rhinos on Thursday. El Paso was first to score on a goal fro E.J. Janda. The Ice Wolves then rattled off three straight goals, including one from Scholle and others from Aidan Emerson and Nikolai Dulak to take a 3-1 lead. El Paso cut the lead down to 3-2 on a goal from Camden Bajzer, but it was all New Mexico after that as they scored four straight goals from Tyler Samodral, Tony Leahy, William Howard, and Scholle to secure the 7-2 win. Carsen Stokes made 22 saves in the win, while Nolan Suggs made 35 saves in the loss.