Wiberg leads Nordiques to 6-5 win over Generals
February 17, 2023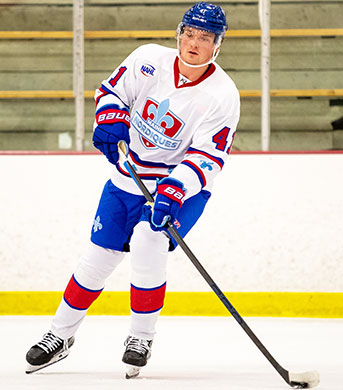 Maine 6 @ Northeast 5 – The Nordiques pulled to within four points of the 3rd place Generals as they came away with a 6-5 win on Thursday. Maine forward Filip Wiberg had two goals and an assist in the win.
The teams were even at 1-1 after the 1st period with Brendan Gibbons scoring first for Maine and Joseph Schubert answering for Northeast.
In the 2nd period, Maine jumped ahead 4-1 with three consecutive goals, thanks to tallies from Henrik Hallberg, Adian Coupe, and Wiberg. The Generals made it 4-2 as David Andreychuk found the back of the need for his 15th goal of the season. However, Maine went back up by three goals at 5-2 as Wiberg found the back of the net again.
In the 3rd period, the Generals made a valiant comeback with goals from Paul Minnehan, Emerson Miller, and another from Schubert, but a goal from Maine's Evan Orloff proved to be the difference in the 6-5 win.
Maine goalie Kael Depape made 29 saves in the win, while Toby Hopp mad 26 saves in the loss.