Wings owners Greg and Nancy Odde named to Hall of Fame
February 20, 2023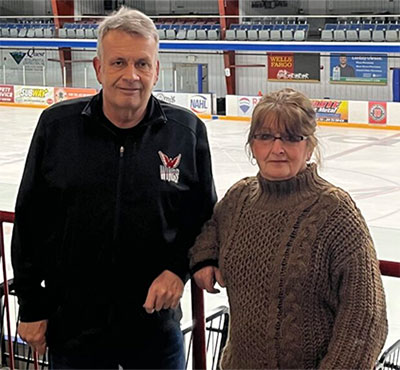 The South Dakota Amateur Hockey Hall of Fame has announced the induction of 15 individuals from seven local hockey associations as the members of its inaugural Hall of Fame class.
The Aberdeen Wings, proud members of the North American Hockey (NAHL), are pleased to announce that owners Greg and Nacy Odde have been named as a part of the inaugural Hall of Fame class in the Builders category.
The South Dakota Hockey Hall of Fame was founded in 2022 to establish a memorial to those who have developed the sport of ice hockey in South Dakota. The first inductees will be presented during an induction banquet at 7:00pm on Friday, April 14, 2023 at the Sioux Falls Convention Center.
"We're excited to unveil the first class of the South Dakota Hockey Hall of Fame," said Jeff Scheel, Chairman of the selection committee. "Our sport is growing rapidly and celebrating these individuals shows where hockey has been and where it's headed in South Dakota."
The inaugural class of 2023 includes:
Builder Category: Tom Hitchcock, Tom Honkomp, Greg and Nancy Odde, Dave Tronnes, Maxine Tronnes, Jack Vosler
Player Category: Landon Badger, Glenn Cacaro, Matt Farris, Justin Kirchhevel, Austin Wagner
Coach Category: Randy Honkomp, Dick Novak
Officials Category: Mike Reger