Oklahoma defenseman Smith makes NCAA commitment
May 31, 2023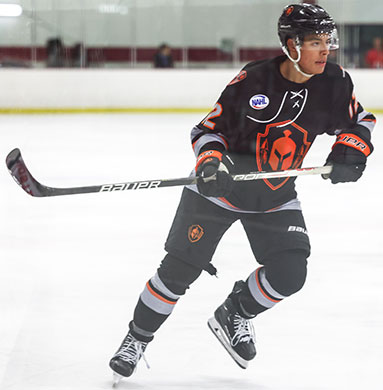 The Oklahoma Warriors of the North American Hockey League (NAHL) are pleased to announce that defenseman Adam Smith announced his commitment to play NCAA Division III hockey for the Milwaukee School of Engineering.
"Joining the Raiders just seemed like a great overall fit for me," said Smith. "I value education first and foremost, and Coach Graham Johnson and Assistant Coach Brandon Richards have the hockey experience too- they seem like great role models. I know they will bring the best out of me, hold me to their highest standard, and make me not only a better athlete, but also student and person."
Smith's North American Hockey League career spanned parts of four seasons with the Northeast Generals and Wichita Falls/Oklahoma Warriors, and in total, he played in 199 regular season + postseason games.
He's made countless connections in junior hockey, and been part of great teams, but reminisced nothing compares to the feeling of going out on a championship run with the 2022-23 Warriors. That included 10 points in 53 regular season games and included playing in all nine Robertson Cup Playoff games.
"It's been a whirlwind of a journey these last four years, taking me across multiple states, with numerous organizations, coaches, and teammates along the way," said Smith. "Those relationships and bonds made, especially this year, are really special. This last season, it means everything."
"All your life you talk about being competitive, playing for championships, you know, playing hockey in May. Until you get into that situation, I don't think you can grasp the magnitude of the opportunity you have. It takes a really special group to win, and it is a testament to our coaches being able to recruit top notch talent, and all-around great human beings who care about each other, wanted to work for each other, and were ready to rally for a common cause."
As special as his final juniors season was, Smith reiterated his excitement for the beginning of his collegiate journey.
"Ultimately, I want to be the best that I can every day, and if they can help me further my dream of potentially competing for a national championship in college while becoming a better person, what more can you ask for," said Smith. "I can't wait for the next four."
In total, Smith appeared in 185 career NAHL games and recorded 35 points. He also played nine games in the NA3HL for the Northeast Generals. Prior to junior hockey, he spent three seasons playing in the NAPHL for the Valley Forge Minutemen and the Northeast Generals.
Click here for an updated NAHL to NCAA commitment list