Outdoor game earns high marks
February 16, 2009
by By Brian McDonough | NAHL.com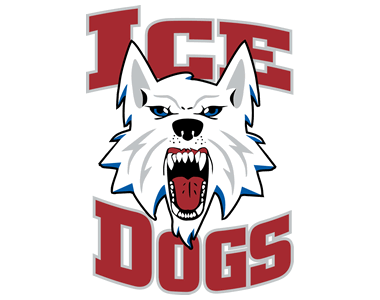 Read the full NAHL Weekly Release.
An experience neither players nor spectators will soon forget, the first-ever USA Hockey-sanctioned outdoor junior game hosted by the Fairbanks Ice Dogs on Friday certainly lived up to the hype.

"Up to this point, that's been the most amazing thing I've ever been a part of in hockey," said Ice Dogs head coach Josh Hauge. "It truly was an honor to be a part of that game."

And it felt even better to win it. Josh Nelson, Eric Kraft and Andrew McCabe scored the Fairbanks goals and netminders Phil Cook and Joe Phillippi combined to stop 34 shots as the home team skated to a 3-1 victory over the Alaska Avalanche.

"We tried to approach the game similar to any other, but realized early on that the puck was a lot more active in the air and was difficult for the goalies to pick up," said Hauge. "Also, the chain-link fence instead of glass made for quite an adventure at some points."

Over 2,000 spectators came out for the first-of-its-kind spectacle, which also helped kick off Hockey Weekend Across America, a USA Hockey initiative designed to celebrate hockey and generate more interest in the game.

Temperatures hovered in the single-digits with plenty more than hockey to keep the Fairbanks faithful entertained, including a number of exotic promotions and an appearance by Alaska Gov. Sarah Palin, who dropped the ceremonial first puck.

"The energy from warm-ups to the end of the game was unreal," said Hauge. "It was a huge day for hockey in Fairbanks and to see the community's support and their appreciation for the event was great."

"It was unbelievable," added Ice Dogs general manager Rob Proffitt, who orchestrated much of the day's activities. "Being the first time we've done this, I expected a few pretty big hiccups, but it was fantastic. Just awesome."

The Avalanche was also impressed with the events that surrounded the historic game.

"It was an outstanding experience for our players," said Avalanche head coach Dave Boitz, who noted that many of his players' parents from both Alaska and the Lower 48 make the trek to Fairbanks for the weekend. "Everybody from our team was really excited about being there and actually thought it was even better than anticipated. There was incredible buzz and energy throughout the town when we arrived.

"The Ice Dogs did an outstanding job marketing the event," he added. "There was barely a detailed missed. Prof (Proffitt), as always, did an incredible job thinking things through."

And Proffitt is already thinking about ways to make the outdoor game even bigger and better in 2010.

"When you go through an event like this for the first time, you kind of get some more ideas rolling through your head," he said. "There's some more things we can do, but I couldn't happier with how everything went."

Back inside the Big Dipper the next night, the Ice Dogs completed the weekend sweep over the Avs with another 3-1 victory. Jared Larson struck for two goals in the win, with Brandon Martell scoring the game-winning marker. Cook made 27 saves in goal.

"We're still trying to learn to be a consistent team," said Hauge, whose team sits in first place in the West Division but holds a 9-8 record in 2009. "We've put some good strings of games together, but we still lack focus some nights. We haven't played our best hockey yet."

One player who continues to elevate his game is Larson. The 19-year-old college hopeful from Apple Valley, Minn., led the Ice Dogs' offensive charge last weekend with two goals and an assist.

"If schools don't know about Jared now, he'll be on their recruiting lists soon," said Hauge. "He's a big forward (6-foot-3, 180 pounds) who can skate. He has a great burst and the ability to finish and, as he continues to get stronger, he'll be a force at the next level."

Unheralded Paul Kirtland, a 20-year-old from Overland Park, Kan., is also delivering steady performances, averaging over a point a game since Christmas.

"He's the most underrated player in the NAHL," said Hauge. "He's a tireless worker and brings grit every night."

And then there's Drew Darwitz, a 20-year-old from Cottage Grove, Minn., who continues to draw rave reviews from Hauge.

"He's a great puck-moving defenseman," said the coach.

With the recent NAHL/USA Hockey trade deadline come and gone, the Ice Dogs stood pat, adding only Dax Lauwers, a high school defenseman from Anchorage, to their roster.

Confident with the cast they've assembled heading into the stretch run, the Ice Dogs hold a comfortable 20-point lead over the second-place Wenatchee Wild in the West but want nothing more than to nail down the No. 1 spot sooner than later.

"The teams in the West are all strong and it's only the playoff winner that advances to the Robertson Cup - that's what keeps us motivated," said Hauge. "We've been very strong this year at home (17-2-3) and want to wrap up home-ice advantage."

Impressed with his team's skating and overall skill, Hauge says his club is slowly but surely improving its team defense and playing a lot more physical on a more consistent basis.

"We'll spend the last month of the year trying to get better with our special teams, too," he added. "We haven't spent enough time working on that area."

With three players already committed to Division I schools - Austin Block (Air Force Academy), Randy Cure (Mercyhurst College) and McCabe (University of Nebraska-Omaha) – Hauge says plenty more will follow suit in the coming weeks.

"A lot of our guys are getting interest, and some are finalizing their decisions as we speak," he said. "It should be another great year for us on the college front."

Watch video highlights of the outdoor game here.
AROUND THE NAHL
ALASKA AVALANCHE: Sean McNeely scored the Avalanche's lone goal in its 3-1 loss to Fairbanks in the first-ever USA Hockey-sanctioned outdoor junior game on Friday.

ALBERT LEA THUNDER: Mikita Feaktsistau and Chris Cass lit the lamp for the Thunder as it dropped three games last weekend.

ALEXANDRIA BLIZZARD: Joe Knoepke tallied a shorthanded goal and two assists as the Blizzard fashioned a 1-1-1 record against Bismarck. He was also a plus-3.

ALPENA ICEDIGGERS: With last weekend off, the IceDiggers hit the road this weekend for two games against the U.S. Under-17 Team and one against Motor City.

BISMARCK BOBCATS: Air Force recruit Jason Fabian scored the game-winning goal in the Bobcats' 3-1 win over Alexandria on Thursday.

FAIRBANKS ICE DOGS: The Ice Dogs play six of their last 13 games on the road, starting this weekend with a two-game series in Alaska.

KENAI RIVER BROWN BEARS: Kyle Clay recorded two assists in the Brown Bears' 5-1 win over Wenatchee on Saturday. Clay, the team's leading scorer, now has points in his last four games (two goals, six assists).

MAHONING VALLEY PHANTOMS: Goaltender Jordan Tibbett notched his 20th victory of the season in the Phantoms' 3-2 win over Marquette on Thursday. "Wins are the biggest thing I can get as a goalie, so every time I pick one up I feel good about myself and our team, but getting to 20 is pretty special," he said.

MARQUETTE RANGERS: Garrett Ladd rang up four goals in three games against Mahoning Valley, including a hat trick in the Rangers' 5-1 triumph over the Phantoms on Friday.

MOTOR CITY MACHINE: Jake Friedman connected for the overtime game-winner in the Machine's 3-2 victory over Traverse City on Friday. "I told Jake with five minutes to go in the third that he was due and a goal was coming for him," head coach Sean Clark said.

NORTH IOWA OUTLAWS: Preparations continue for the Robertson Cup Championship Tournament, which will be hosted by North Iowa from April 28-May 3. "I can't say enough for what the business community has done to make this happen," said Outlaws co-owner Mark Motz.

OWATONNA EXPRESS: Goaltender Fredrik Bergman backstopped the Express to both of its wins last weekend, steering aside 48 of 50 shots. The 19-year-old from Virginia is 5-2-1 in eight appearances this season.

SPRINGFIELD JR. BLUES: Goaltender C.J. Groh stopped all 21 shots as the Jr. Blues blanked Albert Lea on Friday, 8-0. The 18-year-old from Cincinnati has now won his last three starts.

ST. LOUIS BANDITS: Top Prospects Tournament participants Tyler Elbrecht (Minnesota State-Mankato, WCHA) and Keith Kinkaid (Union College, ECAC) have committed to Division I schools for the 2009-10 season.

TOPEKA ROADRUNNERS: Bryce Merriam, who played in last month's Top Prospects Tournament, has committed to Rennselaer Polytechnic Institute (ECAC) for next year. The veteran goaltender is in his fourth NAHL season.

TRAVERSE CITY NORTH STARS: Dan Radke, Chris Heineman and Eric O'Hearn scored for the North Stars as they dropped a pair of games to Motor City.

TEAM USA: Michael Mersch tallied two goals and two assists and goaltender Jack Campbell made all 22 saves as the Under-17 Team blanked Motor City on Sunday, 8-0.

WENATCHEE WILD: Arizona native Duncan McKellar led Wenatchee's offensive charge last week with two goals and two assists as the Wild went 3-1 against Alaska and Kenai River.

WICHITA FALLS WILDCATS: Goaltender Nick Hopper, a University of Nebraska-Omaha recruit, made his first start on Saturday - a 2-1 loss to St. Louis - after being acquired from the Omaha Lancers of the USHL.