NAHL announces Players of the Week
November 15, 2010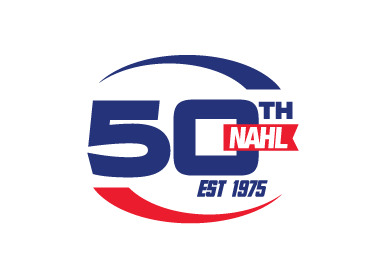 The North American Hockey League (NAHL) has announced its Players of the Week, sponsored by SBK Hockey, for the week ending Nov. 14.

SBK HOCKEY/NORTH PLAYER OF THE WEEK
Nick Carey - St. Louis Bandits

St. Louis defenseman Nick Carey rang up three goals and an assist as the Bandits fashioned a 2-1 record against Motor City. On Friday, the Wildwood, Mo., native recorded a goal in a 5-1 victory. After being held scoreless the next night - a 2-1 loss - the 19-year-old put home two more goals and an assist on Sunday as the Bandits doubled up the Metal Jackets, 6-3. He was also a plus-4 on the weekend.

"Nick's a very smart player who can play in all situations," said Bandits assistant coach Trevor Stewart. "He really stepped up offensively for us last weekend."

HONORABLE MENTION: Chicago forward Tom Coy; Janesville forward Connor McBride; Port Huron forward Louis Educate; Springfield defenseman Ethan Scherer; St. Louis defensemen Grant Gettinger and Blake Edwards

SBK HOCKEY/SOUTH PLAYER OF THE WEEK
Ricky DeRosa - Amarillo Bulls

Amarillo forward Ricky DeRosa struck for four goals, including a natural hat trick in the second period, as the Bulls doubled up the Wichita Falls Wildcats on Saturday, 6-3, in their only game of the weekend. The 18-year-old from Aston, Pa., was also a plus-2.

"Ricky has been a tremendous addition to our organization and the Amarillo community," said Bulls head coach Dennis Williams. "He continues to improve everyday and will be an excellent Division I player in the future."

HONORABLE MENTION: Texas forward Jackson Leef; Topeka forwards Brian Christie, Jordan Davis and Michael Hill

SBK HOCKEY/CENTRAL PLAYER OF THE WEEK
Lucas Dillon - Coulee Region Chill

Coulee Region forward Lucas Dillon connected for four goals as the Chill skated to a two-game sweep over Austin. On Friday, the Thief River Falls, Minn., native put home a pair of goals, including the game-winner, in a 4-3 victory. The next night, the 20-year-old again lit the lamp twice as the Chill downed the Bruins, 7-4. He was also a plus-5 for the weekend.

"Lucas has been one of our most consistent players all year," said Chill head coach Garrett Strot. "Since moving to center, he's taken his game to another level."

HONORABLE MENTION: Owatonna forward Lawrence Cornellier

SBK HOCKEY/WEST PLAYER OF THE WEEK
Willie Hess - Fresno Monsters

Fresno forward Willie Hess came through with three goals and two assists as the Monsters put together a 2-0-1 record against Dawson Creek. On Friday, the Lino Lakes, Minn., native notched a goal and two assists, including one on John Siemer's game-winning marker, in a 4-3 victory. The next night, the 20-year-old picked up an assist as the Monsters fell to the Rage in a shootout, 3-2. Hess registered another goal - the game-winner - in a 2-1 triumph on Sunday. He was also a plus-2 for the weekend.
"Willie has been playing great for us," said Monsters head coach Eric Ballard. "He's on a five-game goal-scoring streak and has been the high-energy forward that we'd hoped he would be."

SBK HOCKEY/GOALTENDER OF THE WEEK
Joey Ballmer - Motor City Metal Jackets

Motor City goaltender Joey Ballmer backstopped the Metal Jackets to a 2-1 victory over the St. Louis Bandits on Saturday, turning aside 31 shots. Two nights prior, the 18-year-old from Kalamazoo, Mich., made 34 saves in the Jackets' 6-1 exhibition triumph over the Czech Republic's 18U National Team.

"Joey is certainly making the most of his opportunities," said Metal Jackets head coach David Cole. "He's a talented goaltender and his teammates have a lot of confidence in front of him."

HONORABLE MENTION: Amarillo's Nikifor Szczerba; Chicago's Nick Kohn; Texas' Jake Stafford; Topeka's Rasmus Tirronen